FINE JEWELRY CUSTOM MADE IN GOLD OR 925 SILVER, YOUR CHOICE OF GEMS AND DESIGN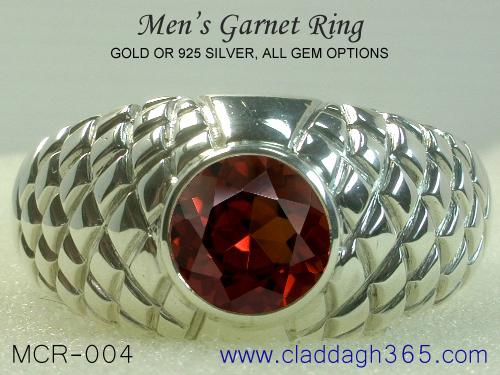 With a history that dates back to a few thousand years, garnet hardly needs any introduction. Garnets are very popular among men and most buyers prefer a deep red garnet in a gold or 925 silver ring. The MCR-004 men's ring has an impressive engraved exterior, and men today wish to have some interest added to the metal in their rings. A significant portion of men's gemstone rings are ordered with dark gems, this garnet men's ring follows that trend too. Since you could order this gold or silver ring with the gem of your choice, let us mention a few dark gemstones that men often seek. Blue lapis, smoky quartz, dark red garnet, london blue topaz, dark purple amethyst, black onyx, black spinel and black sapphires are gems that have always seen a healthy demand in men's jewelry.
Men have gradually come to give attention to what they wear in terms of accessories, while this was long seen in men's watches, jewelry has recently been gaining ground too. Garnet is a natural gem and has until today been spared of any type of gem treatment, the prefix 'untreated' before the name of any gem today raises it's status and desirability. So when you talk about an untreated garnet gemstone men's ring, it means that it is one of the few gems that has been left alone by gem manufacturers. Claddagh365 procures rough red garnets from the mines, we then carefully sort out the best pieces and scrap the rest back to the miners. Each piece is carefully inspected and tested before being custom cut, this ensures that you get a good, natural and untreated stone in your men's garnet ring. Moving a gem from the mine to the cutters table without any detour, is the best way to ensure that the gem is left in it's natural condition.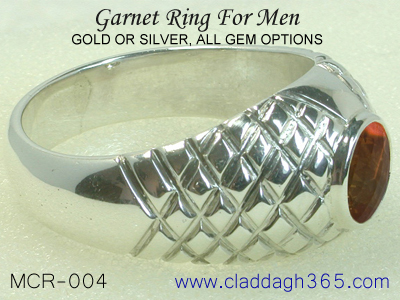 The story behind why this stone was given the name 'garnet' is quite interesting. The Latin word 'granum' means 'grain' or 'seed like'. Ancient garnet jewelry was often designed and made with clusters of small red garnets. Those were surely the days when, the art and science of gem lapidary (cutting) was non-existent. Gems were at best shaped in the form of rounded (beads) or hemispherical pieces. The clustered jewelry reminded one of the pomegranate fruit, which is also formed like red clusters inside. The bible used the name Carbuncle to refer to two red gems - garnets and rubies. So when you say that the breastplate of the high priest Aaron had a carbuncle gem in it, the stone might have been a ruby or a red garnet. Since the name of this gem was inspired by the (inner) appearance of a pomegranate, it would mean that garnets are always red, it sounds logical. As the study of gemstones took on a more professional and scientific tone, experts found that a number of gems that were not red, were also a part of the garnet family. Gems like tsavorite garnet (green), spessartite garnet (orange and red) and demantoid garnet (green) have a price point that, far outstrips that of the faithful red garnet. While we can procure just about any garnet and for that matter any gem, for your men's garnet ring, keep a realistic view of the gem size and price. While spessartite garnet in an orange or orange-red color can, be reasonably priced - the 8mm round gem size requirement for this men's ring, would make tsavorite and demantoid a truly expensive choice. It is best to discuss gem requirements with our experts and draw the benefit of their expertise. You will never be obliged to make a purchase from us, so there is no reason to keep guessing.
Main Features: Let us list the main features of this impressive men's ring with garnet gemstone. The ring can be crafted in gold or 925 silver, the gemstone is a large 8mm round faceted red garnet. The men's gold ring can be ordered in 14k or 18k gold and you can choose from yellow, white or pink for the gold colors. Specific price quotes will be worked out if you need 10k gold or platinum. The price of the gold ring (within the same karatage) remains the same for all metal colors. For the garnet silver ring, we would suggest that the jewel be left unplated mainly because, no plating on silver is permanent and is bound to wear off in time. An unplated men's garnet silver ring will be easier to clean, polish and maintain. If you still prefer to have your sterling silver garnet ring plated, you can choose from white rhodium, yellow gold or pink gold. Since each ring is fully custom made, we can accommodate requests for all ring sizes.
The table below will explain the gem options available and you can let us know if, the gem that your prefer is not listed in the table. Along with fine craftsmanship, we have also equipped this garnet ring with significant metal weight. The minimum metal weight would be in the 20-22 gram range and this means that, your men's ring will not bend or dent easily. Based on the ring size that you require, the ring might have to be scooped a bit inside the band, this is done to keep the metal weight within the range for which the ring has been costed. If you require that your gold or silver garnet ring, be left solid without any metal being taken off from inside of the band, let us know. A solid ring could require an additional metal investment, we will let you know if that entails an addition to the price.
For the dimensions, the front (head height) of the MCR-004 men's garnet ring is around 1.2 to 1.4cm. The portion behind the finger has a width of around 5mm or 0.5cm. The gemstone size needs to be understood a little carefully as it differs, based on the type of gemstone selected. If you see the price table and gem options mentioned you would notice that, the first two categories of gems offer a size of 8mm while the others are marked 7mm. This is based mainly on the price point for various gems. Each men's gold or silver ring is provided with fine workmanship and made by order, we can therefore alter the dimensions of the ring or gem based on your preference.
Personalization: The fact that we emphasized the term 'custom ring' in this report has special significance for you as a buyer. Most of us would like to wear and dress in a style, that complements our personality as this gives us an individuality that makes us feel good and confident. Here are some aspects of the ring that could be tailor made to suit your preference. Some of these ideas might involve an additional cost element and we will, discuss that together once we have your requirements. Request for a small note or date to be etched inside the band of your garnet men's ring, keep it short so that the text, numbers or symbol is clearly visible and readable. Men's rings are being increasingly ordered with textured bands and this is incorporated into the MCR-004 men's garnet ring too. Do you prefer a different texture for your band, something like a pebble effect, a tree bark effect, a light hammered finish, or do you still prefer to have the same plain high polished look - give this a thought and let us have your ideas. We did mention that the gemstone for your men's gold or 925 silver ring can be chosen by you, there is no restriction on the gem selection and you need not be limited, by what you see on our website. How about going for a smooth cabochon cut stone instead of the faceted one that is shown on this page. With each gem being hand picked and custom cut, you might want to choose a different gem shape perhaps, something like an oval or rectangular gem. And what if you want something totally different, we will gladly craft a custom ring with your design idea, email us an image or sketch for the same.
Garnet Metaphysics: Gem and jewelry gurus have coined a complex term for something that we simply claim to be traditions, folklore and beliefs related to gems - they refer to them as the 'metaphysical' properties of gemstones. Various gems have their own bunch of metaphysical properties and some of these, evolved centuries or even thousands of years ago. Garnets and red garnet in particular have been known for many thousand years, it is therefore obvious that the gem is enriched with some amazing beliefs. One of the best known traditions that is linked to the breastplate of Aaron is alive and strong even today, this is the concept of birthstones. Garnet is the birthstone for the month of January and though, red garnet was originally implied, a more liberal point of view is promoted today.Your January birthstone ring can have any one of the gorgeous members of the garnet family. The Bible clubbed garnets and rubies under a single name 'carbuncle', this was one of the gemstones in AAron's breastplate. Noah was believed to have guided his famous ark at night by using a garnet lantern. For centuries and even today, many people believe that wearing a garnet ring protects a traveler from dangers. In ancient times color was the only criteria used to identify a gemstone and so, garnet and rubies were assigned similar meta physical properties. Some of our garnet men's rings ordered from parts of Europe are requested by buyers looking to gain self confidence and success. While we can craft both gold and silver garnet rings for men, we do not claim that any of these traditional beliefs are true.
On a more subtle note, garnets are said to encourage true love, devotion and symbolize truth. The hindus believe that, this gem releases kundalani energy and ignites creativity. In the centuries old practice of Feng Shui, garnets are said to aid the flow of various positive energies based on the position in which they are placed. For example, garnets in the center encourage spirituality and when placed in the North, personal success and a safe journey are the benefits derived. Just keep in mind that these and other properties of garnet or any other gemstone, are mere folklore. They have not been tested or proved scientifically, you should therefore embrace them for their interest and historic value and not expect miracles.
Claddagh365: We are one of the leading online providers of fine custom jewelry. All types of jewelry can be ordered in gold or 925 silver with gemstones of your choice. Equipped with one of the best gem sourcing teams, we place no restriction on the gem selection for the gold or 925 silver jewelry that you order. Good workmanship and hand picked gems are provided for each jewel irrespective of the metal or price point. Our experts at sales@claddagh365.com will be glad to hear your queries and requirements and respond with honest advice and suggestions. We rate the performance of our support team based on the quality of solution that they deliver to each query rather than, the dollar value of the sales orders they book for us. This ensures that you are never pushed into making a purchase from us.
Pricing For The MCR-004 Garnet Men's Ring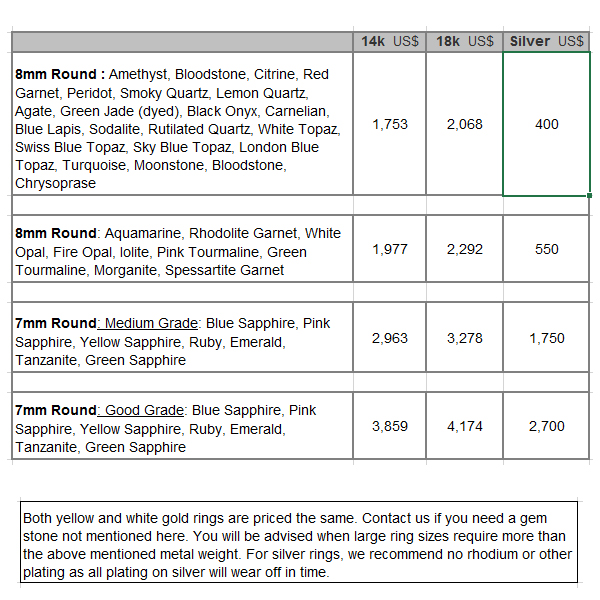 The men's ring is priced with the garnet gem in the first group of gems mentioned in the price list. Email us at sales@claddagh365.com if have any specific requirements or need a gem not mentioned in the price table. White, yellow and pink are the gold color options available.
Etching inside the band can be provided at no additional charge. Let us know if you need a solid band inside with absolutely, no metal scooped out. We will inform you if the additional weight required to do this entails an extra charge.
The production time is 4 to 5 weeks from the date that payment is received. Our preferred mode of payments are Paypal and Western Union but, for first time buyers we would strongly recommend Paypal. Let us know which mode of payment you prefer to use, we will provide details for the same. Shipping is done through FEDEX with web tracking and there, is an additional 35 U.S$ to be added for shipping costs. Let us know if you have another preference for the mode of shipment and we will consider your request. All requests for design modifications can be accommodated, so do let us know if you have any such requirements. Platinum rings are available and prices can be quoted on request. We can also custom make your jewelry based on design ideas and sketches provided by you.
Our Men's Rings Collection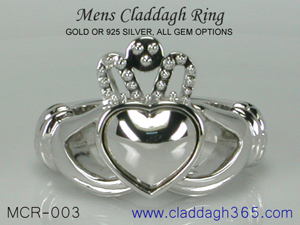 Review our Men's Ring Collection and get some interesting ideas for your own men's ring. Shown above is the four century old claddagh ring, we craft fine claddagh rings for men and ladies in gold or silver. Whether it is a plain or gemstone men's ring that you are looking for, few jewelers can match the quality of Claddagh365. Remember that we can craft your jewel with your own design input in the form of images and sketches.