Men's Ring Gold Or Silver Amethyst Gemstone
CUSTOM MADE JEWELLERY, YOUR CHOICE OF GEM AND DESIGN - IN GOLD AND 925 SILVER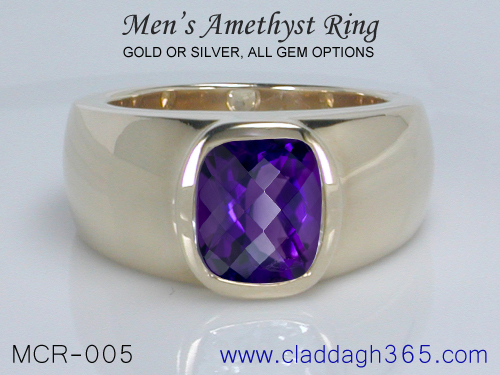 Without following any passing trend or fashion, the MCR-005 men's amethyst ring makes an assertive statement - without saying a word. A 11x9mm hunky custom cut amethyst gem is securely held in a minimum metal weight of 20 grams. Amethyst the February birthstone has been around for a few thousand years and interestingly, it's first encounters had little to do with jewelry. The purple gemstone was linked to one of man's favorite pass time, the drinking of wine and alcohol. Amethyst drew inspiration from two words, amethystos (Greek) and amethystus (Latin). They would translate into something like, 'not drunken' or 'no wine'. It was believed that drinking wine (alcohol) from an amethyst mug could prevent intoxication. Many ancient mugs carved from amethyst stone, have been found in various historical locations.
Back to our men's ring with amethyst, a few essential explanations. If you hear that a minimum 20 gram metal weight is a waste of precious metal, here is the explanation. The format of this amethyst gemstone ring is broad and impressive, it begins with a head height that accommodates a big amethyst stone (11x9mm). Trying to craft this men's ring with a low metal weight would just make the metal sections thinner and this, makes the ring prone to denting and deforming. Focus on the front of the ring, notice how the gemstone is mounted - a bezel setting with the entire gem border being enveloped in metal. Mounting the gemstone with a few prongs would reduce the metal weight requirement but, we know what can happen to prongs. We really do not expect men with their active lifestyles, to get too fussy about their accessories. And this is what prompts us to factor in durability features into each of our jewels. Prongs can get stuck in fabrics, towels, pockets and other places and this, is the beginning of problems. As the prongs snag, they tend to open up and gradually loosen the gem. Thin prongs can scratch skin and irritate people around you too! The foundation of a durable and comfortable jewel begins with sufficient metal weight, this is exactly how we have approached the MCR-005 amethyst ring for men. A jewel that is surely not cheap but, one that will keep pace with your dynamic lifestyle.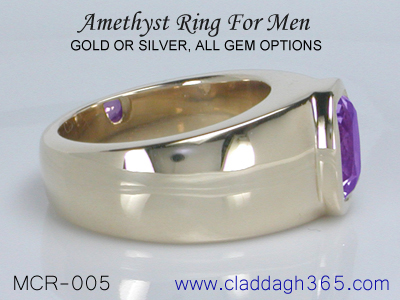 Let's get closer to the gemstone in the gold or 925 silver men's amethyst ring, the purple gem is one of the most valuable and popular gem from the quartz family. The gem is a virtual time lapse capsule with immense folklore, history and beliefs - and it has been so since ancient times and across civilizations. Historians trace the birthstone listing of the amethyst to the breastplate of Aaron the high priest. The 12 stones on the breastplate, represented the 12 tribes in Israel and the purple amethyst was one of them. If you were born in the month of February, the gold or silver amethyst ring for men shown here, should receive serious consideration. The jewel is handsome, durable, finely crafted and has a big carat presence in the large amethyst center stone. Before the large Brazilian amethyst resources came to light, the gemstone was considered to be rare - this attracted the royals and wealthy something that, painted an exclusive image of the gem and did much to push up it's price. Today the same gem with it's amazing purple beauty and affordability, has stolen the hearts of millions of gem and jewelry enthusiasts. Purple amethyst is found in three shades of purple, the very pale lavender which is not very popular, the medium purple color which finds wide acceptance among amethyst lovers and the darker purple - the gemstone shown in our men's amethyst ring is a darker purple gemstone. Both men and ladies seem to enjoy wearing amethyst jewelry with medium to dark purple color stones. If you wish to have a brighter gem which, sparkles color and light, we would recommend that you request for the medium purple gemstone. We can accommodate all requests at Claddagh365 since, each gem is carefully picked and custom cut by our team of gem experts. The image shows the amethyst ring with a specially cut checkerboard facet pattern, you could also request for a conventional cut (faceted) stone.
It's time to talk about the metal options for the big amethyst men's ring, some important notes here so read the details before rushing to place your order. The image says that, the ring is available in gold or 925 sterling silver and we can add that, both metal options get the safe fine workmanship and meticulously selected and cut gemstones. Men's platinum rings are not very common but if that is what you wish, discuss your requirements with our support team and they will get back to you with final specifications and pricing. For the men's gold amethyst ring choose from 14k or 18k gold, all three color options are provided - pick white, yellow or pink gold. 14k men's rings are extremely popular as they strike the right note between price, metal hardness and gold content. We can however provide 14k or 18k men's rings with amethyst or any other gem so, let your personal preference make the decision. Men have always had a serious affair with sterling silver, it is not just the lower price point of silver as compared to gold. The flashy and pricey look of gold seems to put some men off, they prefer the calm confident appeal of 925 silver. At Claddagh365 making a decision about metal is quite easy since, we assure the same quality for both gold and silver jewelry. When talking about a men's silver amethyst ring, you need to make a decision on plating - here are some very useful suggestions. We can plate your men's 925 silver ring with white rhodium, yellow gold or rose gold but, you need to know that any plating done on silver is not permanent. We would suggest that you leave your silver ring without any plating, cleaning tarnish is an easy and convenient task. Any silver jewelry polishing lotion or fabric can be used to polish a silver ring that is not plated. On the other hand a plated silver ring will show a wear off on the plating after some time, this will happen in patches and streaks. At the point, polishing away tarnish will not be an easy task - so keep this in mind and discuss further with our support team if, you have any doubts.
Dimensions: The amethyst men's ring boasts of an impressive metal weight, the gold or 925 silver ring weighs around 20 to 25 grams. The ring has imposing dimensions and maintains a healthy 5mm width, even on the portion behind the finger. This makes the ring sturdy and also more comfortable to wear. Like all other custom jewellery from Claddagh365, you choose the gem for your ring. As the price table printed below will show, the gemstone can have dimensions ranging from 10x8mm octogonal to 11x9mm cushion cut. The amethyst gemstone is provided with a cushion cut and a size of 11x9mm. Since each amethyst gemstone ring for men is crafted by skilled craftsmen and artisans, we can accommodate requests for design modifications and provide all ring size options.
Claddagh365: Besides crafting the world's finest claddagh rings in gold and sterling silver, we are also fully equipped to make high end custom jewelry with your choice of design and gems. The same quality of craftsmanship and meticulous attention to detail is provided for gold and 925 silver jewelry. An unmatched expertise in gem procurement and cutting, connects us to every mining location on this planet. This allows you to choose the gems of your choice without, being limited by the gems that are mentioned on our website. Our support experts at sales@claddagh365.com will be glad to answer any questions or queries that you might have. Since our support team is evaluated based on the quality of information and solutions that they provide, you will not be pressurized into making an impulse purchase.
Pricing For The Amethyst Gem Stone Men's Ring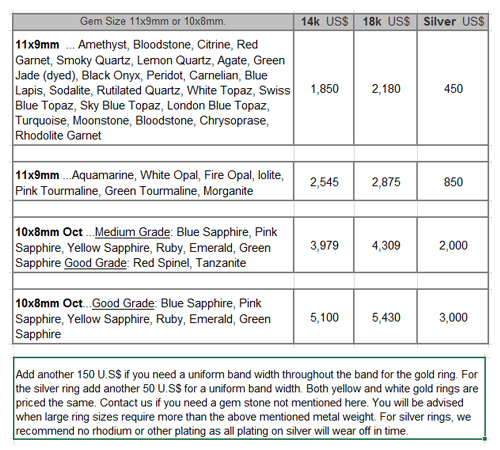 The price table will give you a long list of gem options for this men's ring. The amethyst men's ring is priced in the first group of gems shown in the table. We can accommodate requests for gems beyond, what is mentioned in the list too. Let us know if you have any specific preference for a light purple, medium purple or dark purple amethyst stone. The gemstone is shown in the image with a checkerboard cut, you can request for a conventional faceted cut gemstone too.
Production for your amethyst ring for men would take about 4 to 5 weeks from the date of order confirmation and receipt of payment. We accept payment through Paypal and Western Union. If this is your first purchase from us, we would suggest Paypal as a good option. Let us know which payment mode you prefer and we will email you details for the same.
While platinum and 10k gold are not regular metal options for this ring, you can email us and make a specific request if that is what you need. Our support team at sales@claddagh365.com will be glad to assist you with any questions that you might have.
Your parcel will ship through FEDEX and there is an additional charge of 35 U.S$ for shipping. Please add it to the price shown in the table. You will be provided with the FEDEX tracking number the moment the parcel ships. While we will consider requests for other modes of shipment, it is unlikely that we will ship through a carrier that does not provide detailed online tracking for the parcel.