[MCR010] Men's Garnet Gemstone Ring
CUSTOM JEWELRY FROM THAILAND, YOUR CHOICE OF DESIGN AND GEMS.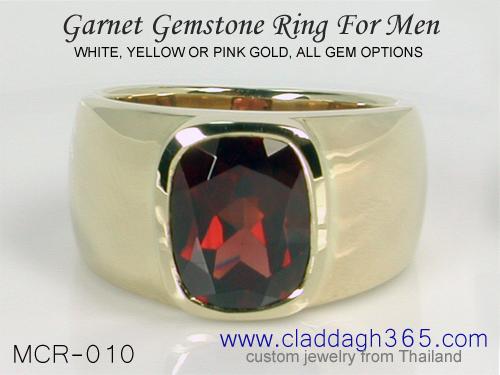 Years and decades after it became known that, garnets are found in a range of colors and not just red, style conscious men still prefer to choose the deep red garnet gem in their rings. The MCR010 garnet ring for men is a substantial jewel in more ways than one. The center gemstone is a large 11x9mm red garnet gem, this is a natural untreated garnet gemstone. The large garnet set in the ring ensures impressive dimensions for the jewel, you can judge this from the fact that even the minimum taper behind the finger, measures a handsome 5mm. All these dimensions would be meaningless if not supported by a healthy metal weight so, we have taken care to keep the metal weight between 20 to 25 grams. Red garnet is the most popular variety of garnets used in men's jewelry, it also happens to be one of the few red gems that offer a perfect balance between price, appearance and durability.
And if you wish to know about other garnet options for your men's gemstone ring, here are some brief notes. An orange variety of garnet referred to as, spessartite garnet is one other possibility for men's gold or 925 silver garnet ring. This gem however, can cost around 10 to 15 times more than what a red garnet gem would - the price difference becomes all the more glaring as the size of the stone gets larger (11x9mm or 10x8mm) size. There is a variation of spessartite garnet which is often referred to as 'mandarin' garnet, this gem mixes a significant proportion of red into the orange. A men's spessartite garnet ring with a mandarin garnet, would be around 30% to 50% more expensive as compared to the same ring with an orange spessartite stone. In the green garnet family, you have demantoid the garnet with tremendous fire and glitter and green tsavorite. Let's begin by saying that, a 11x9m or 10x8mm size for these gems can be safely presumed to be 'very large' - this makes it hard to find and also very expensive. Let us know if you need your gold or 925 silver ring for men to have a garnet other than a red garnet, our team will work out a specific price quote for you.
With dark gems being the preferred choice for men's rings, deep red garnet is just right. Garnet is the birthstone for the month of January so, a men's garnet gemstone ring would have special meaning for those of you born in January. For those of you who wish to have a much deeper understanding of gemstones, here is an interesting fact. The gemstone that is set in your Claddagh365 garnet men's ring, will be a natural gem that has not been treated in any way. You might be aware that the prefix 'untreated' before the description of a natural gem, enhances the desirability of the gem. This is because, the list of gems that are treated in some way or the other to enhance their beauty, clarity or color keeps increasing each year.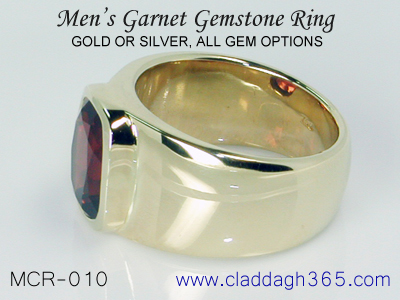 We have shown this men's garnet gemstone ring in yellow gold but, you could request for the same ring in sterling silver or gold. Our gold rings for men, can be ordered in 14k or 18k gold and you can pick white, yellow or rose gold depending on the metal color that you prefer. The good thing is that, we provide the same care and attention for crafting the gold or silver garnet rings. Men have always shown a high preference for silver as compared to gold but, unfortunately most jewelers do not care much about quality when producing silver jewelry. However we play no such gimmicks at Claddagh365, the same team of craftsmen and artisans work on crafting gold and 925 silver jewelry. On the issue of plating your 925 silver garnet gemstone ring with white rhodium, yellow gold or rose gold, we would like to provide a technical explanation in a simple and easy to understand form. The notion that plating can prevent a silver jewel from tarnishing, is cleverly sold by jewelers. The fact is that, your silver men's garnet ring will remain untarnished until, the plating done on the jewel remains. The more important truth is that, plating on silver will always wear off after a while, the rate of wear off will depend on a combination of a number of factors. When the plating starts wearing off, it will happen in patches and this exposes the silver in those areas. So you start getting a rather ugly appearance of patchy tarnish, the ring cannot be cleaned at home and even a professional could not do a perfect job. On the other hand, leaving your garnet silver ring un-plated will mean that it does tarnish but, cleaning the jewel would be a lot easier and you could do that job at home. You will now understand why we always recommend that silver jewelry be left un-plated. If you would still prefer to have your red garnet men's ring plated, let us know and we will do it for you.
Dimensions and Details: The metal weight for the gold or 925 silver garnet men's ring is 20-25 grams. This ensures that the broad dimensions of the ring are sturdy and tough. Let us know if you need your garnet gemstone ring to be solid inside the band with, no scooping of metal done. Based on your ring size, we will let you know if the 'no scoop' option calls for an additional metal weight. The red garnet gemstone in this ring measures 11x9mm and as the price table shows, the gem size can range from 10x8mm to 11x9mm based on the gem that you choose. The portion behind the finger measures 5mm and we can customize the ring, to have a uniform band width all around. A large ring size or the requirement for a uniform band width, can sometimes require the metal weight to be increased. We will let you know at the time of the order being placed whether, this weight increase will be applicable for your men's garnet gemstone ring.
Claddagh365: We craft fine jewelry in gold or sterling silver with your choice of design and gemstones. We are best known for our rendition of the four century old claddagh ring, most experts agree that we craft the best rendition of this highly meaningful jewel. Anything that you see on our website is just to give you an idea of what we can do for you, there is no limitation on design or gemstone when you order your custom made jewelry from us. Get in touch with our team of experts at sales@claddagh365.com for any queries or requirements that you might have. We will be glad to help and provide advice even if, you plan to buy nothing from us.
Pricing, Payment And Production Details For The MCR010 Ring.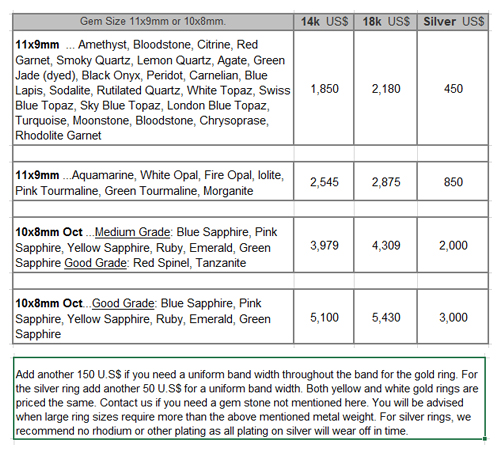 The red garnet ring is priced in the first group of gemstones shown in the table. You can let us know if the gem that you need is not mentioned in the price table. Our team at sales@claddagh365.com will be glad to help you with any information that you need.
Each men's garnet ring is crafted by skilled artisans and craftsmen. We do no make use of ready made molds and design blocks. Once the gold or silver ring is cast and checked for quality, the gemstone is selected by our experts before being custom cut to fit the finely crafted metal mount. It is this close attention and emphasis on quality that, requires a production period of 4 to 6 weeks from the date that the payment is made.
Do let us know if you have a preference for a garnet men's ring that is solid from inside the band with no scooping at all. Our team will inform you if this requirement based on your ring size, will call for additional metal weight to be invested. You can also inform us regarding any etchings that you wish to have inside the band of the ring.
We accept payment through Paypal or Western Union, for first time buyers we would strongly recommend Paypal. Let us know which mode you prefer and we will provide details for the same. Your ring will ship through FEDEX with web tracking facility, please add another 35 U.S$ for shipping charges to the prices quoted in the table. While we might agree to ship through another mode of shipment, it is unlikely that we will accept a shipping option that does not allow for a clear tracking of the parcel online.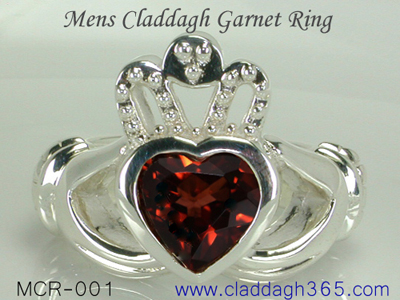 At Claddagh365, you can pick any of the designs on our website and request for it to be crafted in gold or silver with the gemstone of your choice. You are also welcome to send us design concepts of your own for the men's garnet ring. This high degree of customization combines with the fine craftsmanship that we lavish on each jewel irrespective of, the metal selected. Both gold and silver garnet rings for men will have the same quality in terms of workmanship, design and gem quality. The MCR-001 is the finest rendition of the historic claddagh ring. First made more than 4 centuries ago by an Irish slave, this legendary ring is today regarded as one of the most meaningful jewels in history. Our Men's Ring Collection will give you more ideas and inspire you to get the ring of your choice. Just remember that every ring can be crafted in gold or sterling silver though, we can also provide platinum as a metal option on specific requests. Men's gold rings are generally crafted in 14k or 18k gold and you can select, white, pink or yellow for the gold color. In recent years we have been receiving numerous requests for 10k gold, let us know if this the gold option of your choice and we will work a price quote for the same.