The history, status and value associated with sapphire gems make them a universal favorite. This blue gem has been known to humans for many centuries. There was once a belief that the earth rested on a big sapphire, the reflection form the gem formed the sky. You would be seeing a lot more of men's sapphire rings if only, the gemstone was more affordable. Sapphires and rubies are cousins, they come from the same mineral, corundum.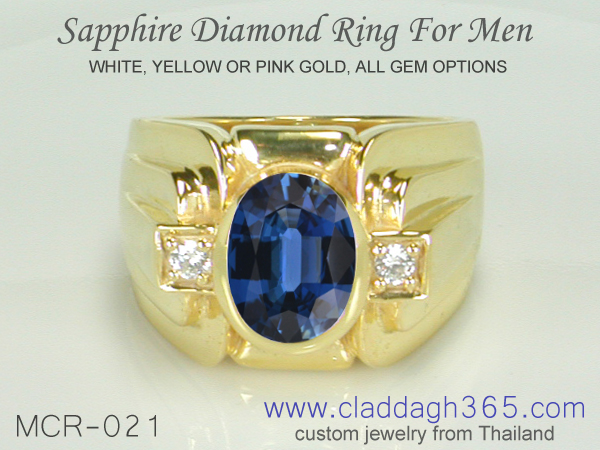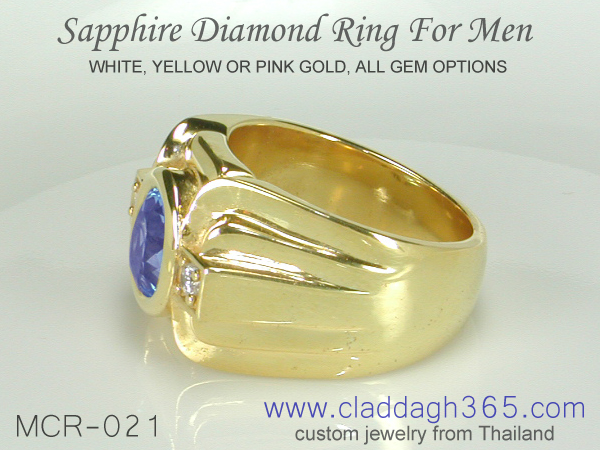 Blue was the first recognized color of sapphires, for very long it was believed that all sapphires are blue. We now know that this tough and durable gem comes in some interesting colors, like pink, white, yellow, green, orange and blue. Having said that, blue sapphires dominate the demand for men's sapphire gemstone rings. The saturated blue color of this gem has earned it a name, it is often referred to as the 'king of blues'.
One very positive thing about sapphire is that, the gem is hard and tough. It is rated as the second hardest stone to be used in jewelry, diamond is the hardest. If you are interested in numbers here is a short explanation. The Mohs index is used to define the hardness of various materials. This scale runs from 1 to 10 where 10 is the hardest and 1 the softest. Diamond is rated at 10 and sapphire (along with ruby) ranks a close second with a hardness of 9.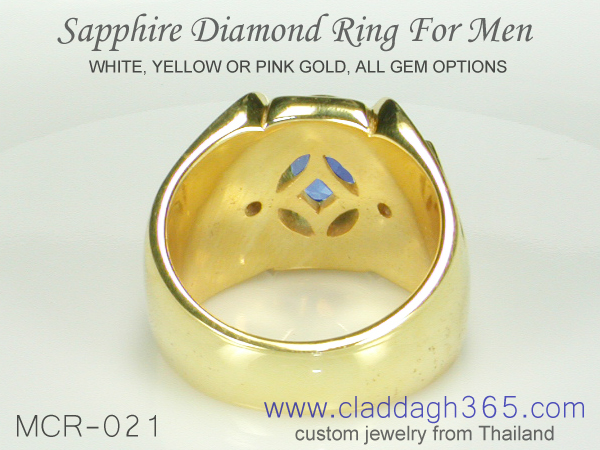 The MCR-021 men's sapphire ring has a sturdy construction, we have optimized the metal weight to make the jewel durable and long lasting. Sapphire on its own is hard enough to withstand frequent wear, you will not need to fuss and pamper the stone. However the durability of a jewel does not depend only on the gemstone, it is influenced by a number of factors. The bezel setting for the oval sapphire, keeps the stone securely mounted. It also ensures that the stone edges will not chip or crack with side impact. The good metal weight provides good thickness for the entire structure, your ring will not dent or bend easily.
MCR-021 Ring Highlights:
Custom made in gold or 925 silver, uniform quality standards for both metals.
Optimized metal weight of 20 to 25 grams, makes the ring sturdy and long lasting.
The center gem is a 9x7mm oval, you can choose the gemstone of your choice.
You can choose a medium or good grade gem for your men's sapphire ring.
Options include yellow, white, blue, green or orange sapphire gems.
Request for a price quote if you need a 10x8mm oval gem in the center.
The sapphire gold ring can be ordered in 14k or 18k gold, 3 gold color options.
For the men's silver sapphire ring, we recommend no plating.
The diamonds are 2.5mm rounds, price quote for 3mm diamonds can be provided.
We can accommodate requests for all ring sizes.
We can craft a sapphire men's ring with your design concept.
Many men prefer to wear a sapphire wedding ring, this shifts the focus out from diamond wedding rings. Besides being a gorgeous gem, sapphire is also associated with truth and sincerity. If you were born in the month of September, you have a special connection with this gem from birth. Sapphire is listed as the September birthstone.
Pricing And Options For The MRC-021 Sapphire Diamond Ring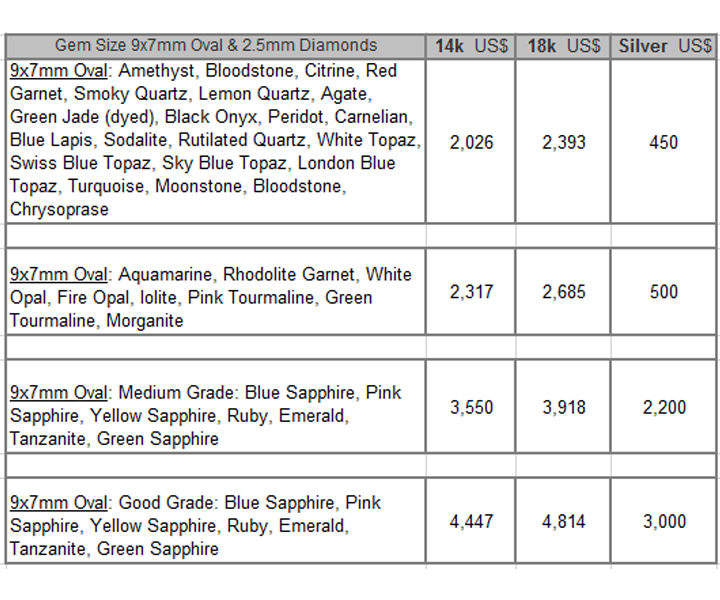 How To Buy: Provide details of your requirement to our support team at sales@claddagh365.com Provide an idea of the metal, ring size and gemstone required. You can pick the design of this sapphire gemstone ring for men and request, for it to be made with the gemstone of your choice. We can also craft your ring with a design sketch or image provided by you. There is a production lead time of 4 to 6 weeks from the date of payment being made. Each ring is fully custom made and involves a high degree of skilled craftsmanship. If you would like to have your sapphire gemstone ring for a specific occasion, please make sure that you order it well in advance. We prefer Paypal as the mode of payment as it is safer for you and us. We can also accept bank transfers, while Western Union is one option, we do not recommend it for first time buyers. Let us know your preferred mode of payment and we will provide details for the same.
Claddagh365: Thailand has some of the finest gem cutters and gemstone artisans, Claddagh365 crafts all types of gold and silver jewelry in Thailand. With decades of experience in gemstone procurement and cutting, we can custom make your jewelry with any gem found on this planet. The same set of artisans and quality control professionals, handle gold and silver jewelry orders. Get in touch with our experts if you have any questions or requirements related to gems and jewelry. We will provide you with information and let you make the buying decision. Our support team is assessed based on quality of solutions provided and not on revenue generated. This might seem old fashioned but, there is really no short cut when you are spending your hard earned money.