Large Men's Ring With Aquamarine
When choosing a men's big ring with a large gem, you will need to consider some important issues. Gem prices generally move up as the size of the stone increases. Claddagh365 presents the MCR-030 men's aquamarine ring, a jewel with a researched design and optimized features. This is a large aquamarine ring, the gem size option include a big 10x8mm oval aquamarine gemstone. Aquamarine is the light blue variety of beryl, historically humans have always associated the gem with water and the oceans. Sailors would often carry a piece of aquamarine with them when they set sail, the stone was believed to have special protective powers when near water.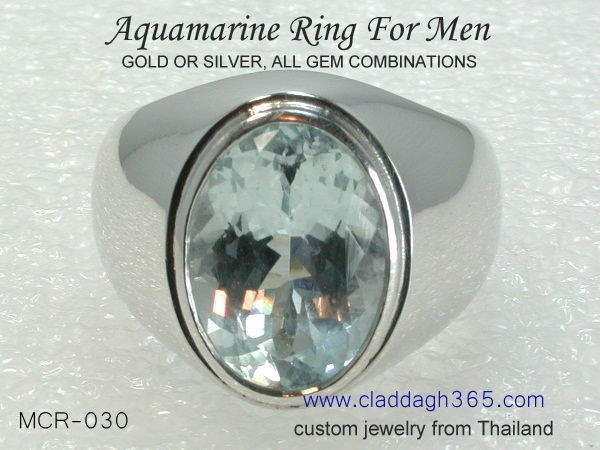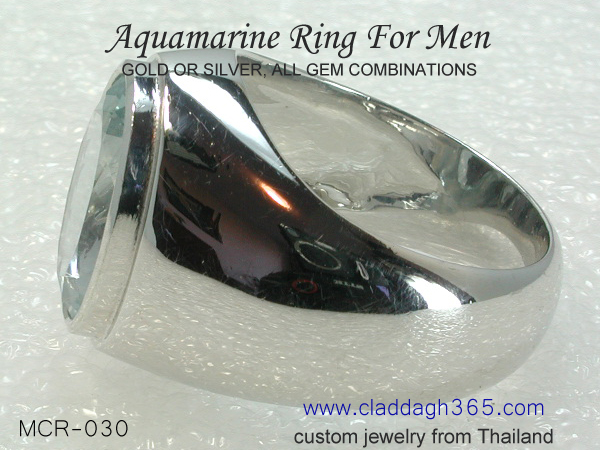 While this men's ring comes with options for two gem sizes, it is the 10x8mm oval stone that works best for a large gent's ring. The large gem gives the ring an impressive head height of around 1.5cm (15mm), the band tapers to a substantial width of 6mm (0.6mm) behind the finger. These dimensions make the MCR-030 large men's ring an absolute favorite for style conscious men. Our designers have ensured that the large format ring is backed, by sufficient metal weight. The gold or silver aquamarine ring for men, has a minimum metal weight of 20-25 grams. Since each ring custom crafted, you could request for a larger aquamarine gem or go for a different gemstone shape. We can even make a ring just for you based on your own design idea or image.
Main Features Of The Men's Aquamarine Ring:
A natural certified 10x8mm or 9x7mm oval aquamarine gemstone.
You can request for a larger gem or a different shape.
The ring can be custom made with the gemstone of your choice.
The same team of skilled artisans works on the gold and silver ring.
The same quality standards are provided for both metal options.
A large men's ring with a head height of around 1.5cm (15mm).
The portion behind the finger has a band width of around 6mm (0.6cm).
The metal weight for the ring is 20-25 grams, larger sizes might require more.
You can let us know if you need a solid band with no scooping done inside.
All ring size requests and design modifications can be accommodated.
We can custom make a men's aquamarine ring with your own design concept.
Is it true that white gold is suited for formal wear and leisure wear jewels are better crafted in yellow gold. If this was a convention, it no longer holds true. You could order this large men's ring in gold or silver, the gold ring is available in 14k / 18k gold and you can select white, yellow or pink gold. If you have noticed that most aquamarine gemstone rings are ordered in white gold, there is good reason for this. White metals like white gold, silver and platinum do not render any color tone on the gems set in them. Aquamarine has a graceful pastel blue color, gold colors like yellow and pink will cast a hint of their own color on the gem. All said and done, we leave the choice to you, there is no need to follow trends and conventions - you know what makes you feel the best.
It is said that most men purchase jewelry to celebrate or mark a special occasion. So is this big aquamarine ring suitable for a men's wedding ring. Our answer would be in the affirmative with no second thoughts. Aquamarine is a tough stone, easy to wear and maintain. The gemstone has a very dignified and confident look, it will never look out of place or outdated. There is another deeper meaning historically attributed to aquamarine, this is very relevant to marriage and family life. Crystal healers claim that aquamarine helps a person stay calm, it also helps build and develop relationships. You should therefore consider choosing a men's aquamarine wedding ring if, you plan to tie-the-knot any time soon.
Pricing And Options, 12x10mm and 10x8mm Oval Gemstone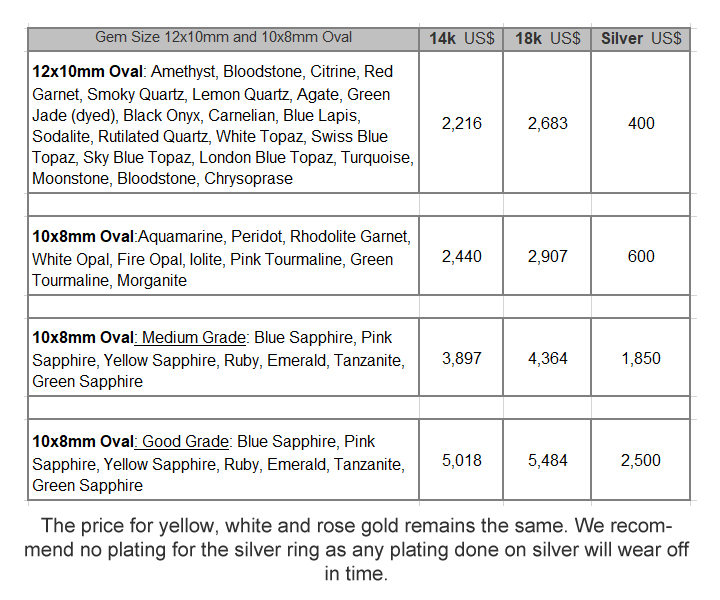 Pricing And Options, 12x10mm and 10x8mm Oval Gemstone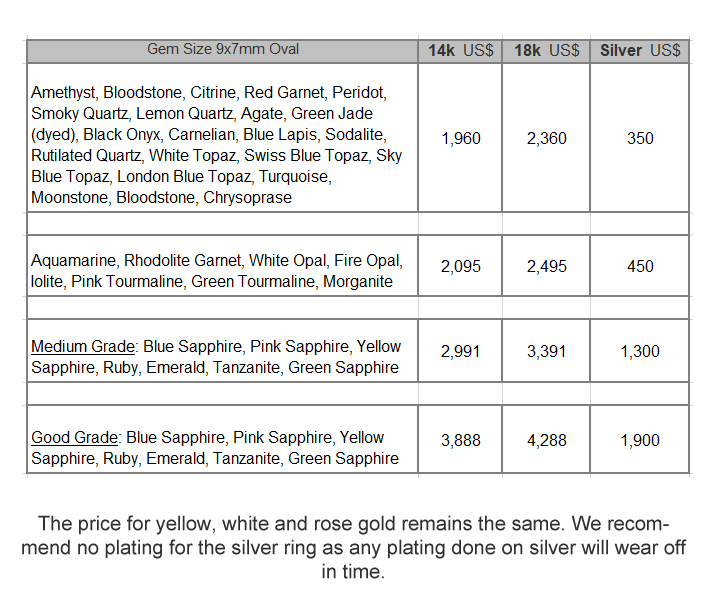 Those of you celebrating your birthday in March, have a special connection with Aquamarine. The birthstone charts list aquamarine as the March birthstone. Since your birthstone has a deeper meaning to you lifelong, it is a good idea to invest in this big aquamarine men's ring. The ring is tough and sturdy and well crafted, the gemstone is a natural certified aquamarine. You could wear the ring all your life and then pass it on to the next generation.
We often get emails from buyers inquiring whether, this ring or any other ring, has a solid band or is scooped inside. Here is a clear explanation on this issue. The metal weight for this ring as shown in the image is 20-25 grams. The dimensions of the ring will depend on the gem size selected and the ring size. The metal weight required to craft a ring with no scooping done inside the band, will depend on ring dimensions. Simply put, we will be in a position to confirm a solid or scooped band, once we have your ring and gem size preferences. If you happen to be interested in this big men's ring with aquamarine, let us know if you require an unscooped band and we will calculate the required weight and discuss price changes (if any) with you.
Buying The Ring: We have a highly experienced support team that can be reached at sales@claddagh365.com Each jewel crafted at Claddagh365 is a fine jewel and confirms to the highest quality standards. We do not encourage a hurried 'click buy pay' mentality when buying fine jewelry. Discuss your requirements with our team, they will get back you with pricing, options and valuable advice. You can also send us your design sketches or images to be custom made.
With each ring being fully custom made, there is a 4 to 6 week production time for the aquamarine men's ring. Payments are accepted through Paypal and Western Union. If you happen to be buying from Claddagh365 for the first time, we will strongly suggest that you choose Paypal. Let us know your preferred mode for payment and we will provide details for the same.