Ruby Diamond Ring - Gold Or 925 Silver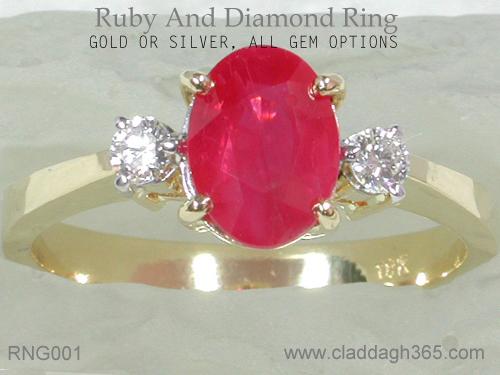 A ruby ring has always been one of the most prestigious jewels and this, has been true for many centuries. The RNG001 ruby diamond ring has a classic design concept that, is both timeless and gorgeous. Given the precious nature of this gem and it's well known steep price, the ring allows maximum exposure for the ruby gem in the center. Ruby belongs to the corundum mineral family and it's renowned cousin sapphire is also a corundum. This red gem has adorned the fingers, ears, necks and wrists of some of the most powerful and rich personalities in history. In the days of kings and queens and royal palaces, it was widely accepted that the common person could not wear a ruby gem even if, he or she could afford one. Gone are the days of the kings and queens and just about anyone could wear a ruby jewel today but, a 'limitation' of another type has restricted it's access. The rarity of ruby and it's consistently high price has kept the gemstone out of the reach of millions of gem and jewelry enthusiasts. This obviously implies that you would see far more ruby rings if, the gemstone was a little more abundant in quantity and reasonable in price! Unfortunately, there does not seem to be any possibility of gem quality rubies dropping in terms in price.
When we designed this ruby diamond ring we knew that, the concept was not brand new - it is actually one of the most popular concepts for a wedding or engagement ring. But what we did do differently is to define the metal weight and construction of the jewel in a way that, added to the durability of the jewel. The ring is not bulky and we yet wanted it to be tough and withstand daily wear, we went ahead and invested significant metal weight in the jewel. With this feature it was not necessary to do a heavy metal scoop inside the band and this in turn, meant that the ring would not bend or deform easily. With the objective of allowing the oval ruby to look it's best, we set the gemstone with four sturdy prongs, the word 'sturdy' bears special importance. In a bid to save on metal weight, many jewelry providers use thin and flimsy prongs to set gemstones. We did not fall for this gimmick as, skinny prongs can scratch delicate skin, they can also get caught on fabric and get pulled open - this can dangerously loosen the gem or cause it to drop off. What this does mean is that, a simple external feature comparison between our ruby ring and that of another jeweler will not give you the true picture. A quality ruby ring can never be cheap and choosing a feeble and delicate ring can mean frequent repairs, things can get far more painful if, a bad gem setting is the cause of gemstone drop off.
Ruby the July birthstone is often seen in high end wedding and engagement rings and there is a specific reason for this trend. Ruby has always been believed to encourage true love and loyalty. This however does not mean that, your ruby diamond ring cannot be worn for other occasions or as a casual wear jewel. Given the fact that couples are generally willing to spend more liberally on engagement and wedding rings, there is a larger budget allocated for such special event jewels. Both medium and good quality ruby gems add a substantial gem price component to the final price - this surely keeps ruby off many shopping lists for general wear jewels.
You need to be aware of gem treatment processes applied to rubies as this, is one factor that can sometimes lower the value of the gem. Both rubies and sapphires have for centuries been heated to increase their clarity and improve their color - the good news is that, the conventional heat treatment applied to ruby and sapphire does not reduce the value of the stone. Gem experts agree that simple heat does not reduce the toughness of these gems. What you need to be more aware of is other ruby treatments like surface diffusion and fissure filling. You might hear terms like 'glass filled' rubies or 'fissure filled' rubies. These treatments reduce the durability of the gemstone and therefore force the price of the gemstone down. You can safely presume that the ruby in the RNG001 ruby diamond ring is heat treated. While options like fissure filled and surface diffused rubies can make the gemstone a lot prettier, they also destabilize the gemstone - they obviously cost a lot less than simple heated ruby gems.
Dimensions, Weight And Metal Options: In a bid to make this gorgeous ruby and diamond ring fit into a wider range of budgets, we have provided two gemstone size options. You can pick an 8x6mm or 9x7mm oval ruby gem for the center. In general we would say that, a ruby ring with a (ring) size of around 5 to 7 would look fine with an 8x6mm oval gem. But for larger ring sizes, consider budgeting for the 9x7mm oval ruby gem. The diamonds on either side of the oval ruby are rounds with a size of 2.5mm. You can let us know if you prefer to have the diamonds replaced by other gems - possibilities are yellow, white, pink or blue sapphire and ruby. This would surely lower the price point of your ruby ring, our support team will work out a specific price quote for you. Like for all Claddagh356 custom jewelry, you get the same quality of design, craftsmanship and gems for the gold or 925 silver diamond and ruby ring. We provide a healthy metal weight for all ring sizes and you can expect, the gold ruby ring to weigh around 8 to 12 grams - depending on the ring size required. Since silver has a lower specific gravity as compared to gold, the weight of your diamond and ruby silver ring would weigh around 6 to 10 grams. When ordering your ring let us know if you need a completely solid band inside, this would mean that no metal scooping is done. Such a gold ring my require additional metal weight depending on the ring size - we will let you know if this puts any addition on the price tag. 14k and 18k gold are options for the ruby gold ring and gold colors could be, white, yellow or pink. For a silver ruby diamond ring we would suggest that you leave the ring un-plated, this makes it easier to clean and polish the ring. We can provide white rhodium, yellow gold or rose gold plating for the silver ruby diamond ring but, keep in mind that the plating will come off after a while.
Claddagh365: While we are well known for being the provider of fine renditions of the centuries old claddagh ring, we also craft high end custom jewelry in gold and 925 silver with gems of your choice. By combining the skills of some of the best craftsman with gems sourced from across the world and designs, to please every style and taste - we have grown to be the preferred source for jewelry lovers of all ages and nationalities. You are welcome to send us your own design sketches and images to be custom made. Email us at sales@claddagh365.com with your questions and requirements.
Pricing For The RNG01 Ruby And Diamond Ring
With A 9x7mm Oval Ruby Gem and 2.5mm Round Diamonds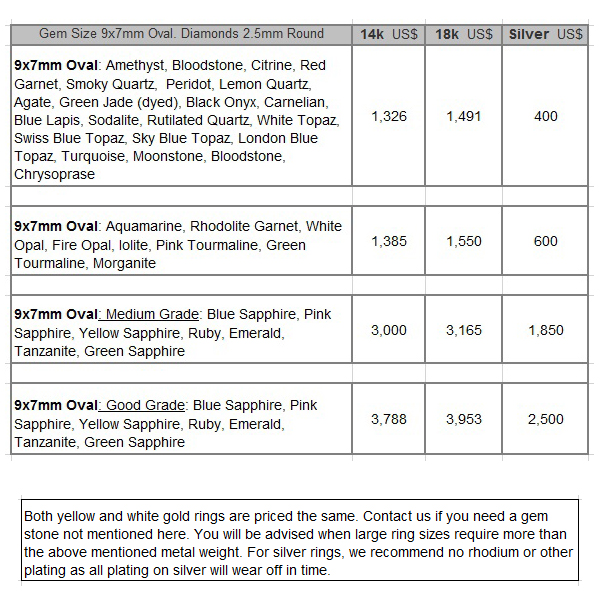 You can select the gemstone of your choice when ordering this ring. Email us at sales@claddagh365.com if the gem that you need is not mentioned in the price table.
The ruby gem pricing in the medium and good grade category, are in the third and fourth group of gems in the table.
Email us if you would like the side diamonds replaced by any other gem stone of your choice. We will send you a price quote based on your selection.
The ring is crafted in all sizes and we will let you know if a large ring size requires the metal weight to be increased.
With An 8x6mm Oval Ruby Gem and 2.5mm Round Diamonds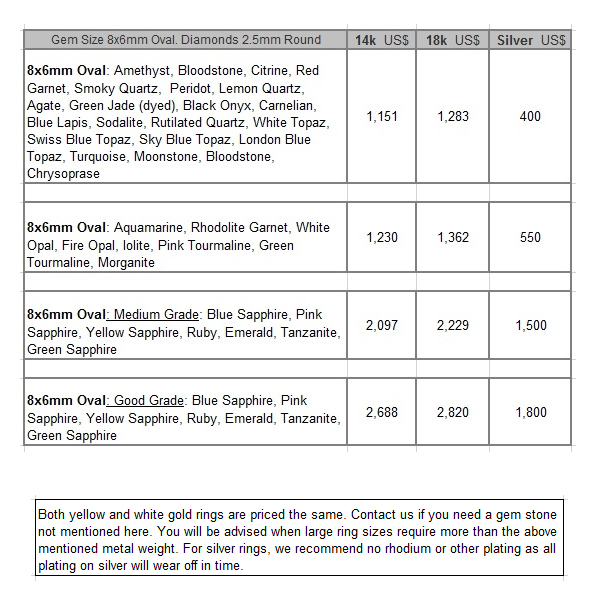 This is the pricing for the ruby diamond ring with an 8x6mm oval gemstone. You can select the gemstone of your choice, email us with details if the gemstone that you prefer is not mentioned in the list.
You have two grades of ruby gems to choose from, the price options are mentioned in the second and third group of gems in the table.
The diamonds in the ring can be replaced with gems of your choice, email us with details if you need such a change to be made. The ring is crafted in all ring sizes.
Production time required is 4 to 5 weeks from the date of order confirmation and payment being made. Paypal and Western Union are the modes of payment that we prefer, we recommend Paypal for first time buyers. You can email us at sales@claddagh365.com with the mode of payment that you would like to you and we will provide details for the same. We will ship through Fedex and send you the tracking number the moment the item ships. There is an additional 35 U.S$ shipping fee that needs to be added to the prices mentioned in the table.