Emerald Gold or Silver Rings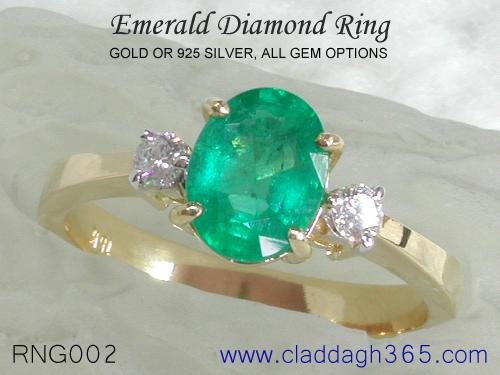 Emeralds have been known to man for thousands of years. If there is one gem that tied together the affluent in the ancient world it was the emerald. From Cleopatra to the rich Maharajas of India, this green variety of beryl has been admired and profusely showered with traditional beliefs and folklore. Green is often labelled as the giver of life, the color that refreshes and helps nurture true love. Given the human affinity for green, emerald is believed to bring inner peace and well being. Along with ancient beliefs and folklore, this green gem packs beauty and grace and seems to boldly justify it's premium price tag. With such an illustrious history it is no surprise that, emerald finds a permanent place on the birthstone and anniversary gem charts. For those May born babies, emerald the giver of life is what you should wear as emerald is the birthstone for the month of May. The anniversary charts seem to be truly fond of this gorgeous green gem, the 20th and 35th anniversaries are both celebrated with an emerald.
The RNG002 emerald ring is a jewel that has been designed and crafted to please the eye and with a gorgeous gem like emerald, we did not have to complicate the design features. The diamonds on the side of the stone offer a sense of balance and seem to keep you grounded as you get lost in the fantasy of the green gem in the center. Scientists put the time that it takes an emerald to form as being anywhere between, 10 million years over 200 million years. Pure beryl is colorless and it takes impurities to give us colorful gem varieties like morganite (pink), aquamarine (pale blue), heliodor (yellow), bixbite (red) and the stunning emerald (green). It is the presence of chromium and vanadium in emerald that gives it the green to bluish green color. During the millions of years that it takes for an emerald to be formed, it is pure (colorless) beryl that needs to somehow meet and mate with these color giving minerals. And for this to happen, a major tectonic activity is called for something that, happens very rarely and this is what makes emeralds very rare. In the very unlikely event that pure beryl finds chromium and vanadium, the preceding tectonic activity puts the newly forming emerald under severe stress and strain. And the emerald does show those stress marks in the form of fine inclusions or fissures. You can safely presume that all natural emeralds will show visible inclusions and fissures, their density and positioning within the gem can differ from piece to piece.
The gemstone set in the ring shown on this page is natural and so, the emerald gemstone ring that you get from us will indeed show inclusions and fissures. Each emerald gem will have it's own internal arrangement for these internal marks so in effect, they lend an absolutely distinct identity to the gemstone. For many centuries gem manufacturers have used natural oils and resins to treat emeralds, this process softens the visibility of inclusions and fissures, it also seems to improve the luster of the stone. This treatment for emeralds is accepted by gem experts too and is well known to all gem testing laboratories and institutes. Even the most expensive emerald that might be locked up in some well guarded security vault, needs to be occasionally brought out and oiled. So do not be alarmed if you hear that, the oval gem in your gold or 925 silver emerald ring has been treated with oils. Knowledgeable gem and jewelry enthusiasts refer to these elements within the emerald as 'birthmarks'. And the more stylish buyer describes the entire formation inside each emerald gem as being it's very own 'garden'.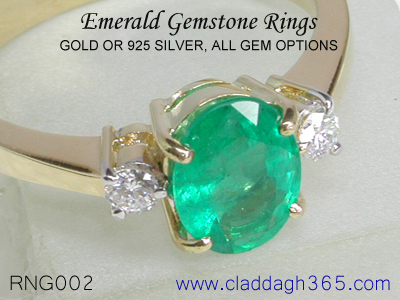 Let us know highlight the metal that can be selected for this emerald diamond ring. Not so long ago, it would seem strange if we told you that we could provide a fine sterling silver emerald ring but, things have changed today. Jewelry lovers have come to enjoy the timeless appeal of silver and even gems like emerald and sapphire, which are in the upper price category are being proudly showcased in sterling silver. There is no doubt that emerald gold rings still enjoy a large and loyal following. And there are some variations in gold alloys that can be selected. We provide both 14k and 18k gold emerald gemstone rings, the choice is yours. And don't forget gold colors, white, yellow and pink are the exciting options here. Some buyers prefer the absolute lack of color distraction that white gold offers, this means that the gem in a white gold emerald ring gets undivided attention and admiration. That does not mean that, the warm tone of yellow gold is left out of the emerald action, the rich color of yellow gold has a substantial market too. If you have heard that rose (pink) gold is making a comeback after almost a century, you got it right. Jewelry savvy buyers who seem to have it all now look for the attractive option of pink gold. One small note for those of you who select a 925 silver emerald diamond ring, this relates to the plating of the jewel. Plating on silver no matter how, where and with which metal it is done will wear off after some time. We can provide white rhodium, yellow gold or pink gold plating for your emerald 925 silver ring but, keep in mind that this will not last permanently too. Cleaning a silver ring that has never been plated, is much easier and more convenient as compared to doing the same with a plated silver ring.
Ring Dimensions and Weight: The RNG002 emerald gold or 925 silver ring comes with two options for the gem size, you can pick an 8x6mm oval stone or one that measures 9x7mm. There is a price difference related to these two gem sizes so do give it a thought. In general we would say that, a ring size that is larger than US 8.5 would look better with the 9x7mm emerald gem. You can take a decision based on your preference and the budget that you have in mind. The diamonds are natural round diamonds and measure 2.5mm. Let us know if you would prefer to have these diamonds replaced with other gems of your choice - we will get back to you with an adjusted price quote for the same. The emerald diamond ring shown here might appear sleek but it is built sturdy with a gold weight of around 8 to 12 grams, we will let you know if a larger ring size requires additional metal weight. Since silver has a lower specific gravity as compared to gold it also happens to be lighter than gold, the silver emerald ring is therefore assigned a weight of 6 to 8 grams. Let us know if you would like to have a small etching done inside the band, if this is so the ring needs to be crafted with a solid inside and would have absolutely no metal scooped out from inside the band.
Claddagh365: Our claddagh rings are considered to be the finest rendition of the 4 centuries old ring. We also custom make all types of jewelry in gold or sterling silver, you can choose a design from our website or send us your own design sketches to be custom made. Each jewel is crafted by extremely talented and experienced craftsmen and artisans, the same attention to detail is provided for gold and 925 silver jewelry. We are well known for our wide reach in the gemstone mining sector, this allows us to offer you an unlimited range of gems when ordering your jewelry. You need not be limited by what you see on our website, just let us know the gems that you prefer and we will handle the rest. Do email us at sales@claddagh365.com with any requirements or questions that you might have.
Pricing Details For The RNG002 Emerald And Diamond Ring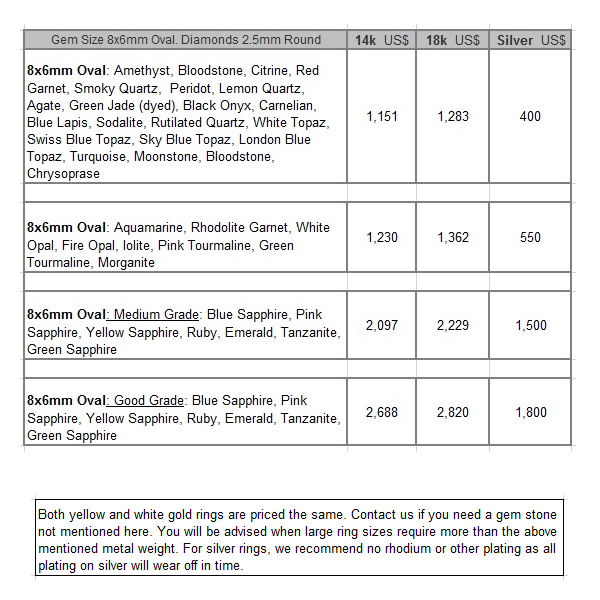 The ring is priced for 2 gem size options in two separate price tables. You can let us know if you prefer a shape other than oval for your emerald gem stone ring - some ideas would be round, or even rectangular.
The 2.5mm round diamonds on either side can be replaced with gems of your choice, email us at sales@claddagh365.com if you have any such requirements.
All ring size requirements are possible. While we can do plating on the silver emerald ring do keep in mind that, no plating done on 925 silver is permanent.
If you need a large ring size beyond size US 9 or 10, we will let you know if it is recommended to increase the metal weight for your ring. The idea is to retain the high degree of toughness that is incorporated into the design features of your emerald ring.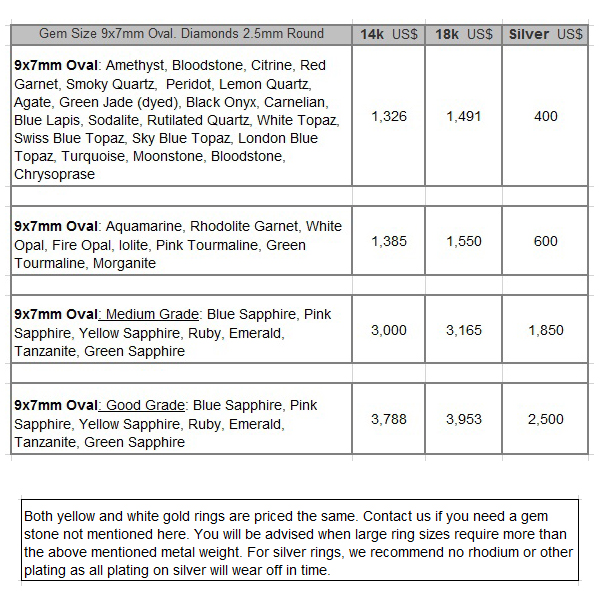 You can pick your choice of yellow, white or pink gold when ordering the gold emerald gem stone ring.
Production is 4 to 5 weeks from the date of receipt of payment. Paypal and Western Union are the recommended modes of payment and Paypal is strongly recommended for first time buyers. Let us know which mode of payment you prefer and we will provide details for the same.
Emerald gold and 925 silver rings will ship through FEDEX with web tracking. Please add another 35 U.S$ to cover shipping charges. Let us know if you have prefer a mode of shipment other than FEDEX and we can discuss details.