Big Spinel Gemstone, Natural From Burma
HIGH END CUSTOM JEWELRY MADE WITH YOUR CHOICE OF DESIGN, METAL AND GEMS
[SPN001] After getting a step motherly treatment from the world of gems and jewelry for many decades, spinel the natural gemstone has come back with vengeance - at least in terms of stiff prices per carat that is. While rubies and sapphires have never really been cheap throughout history, there were times when these two gems were available in reasonable price ranges too - but, that is a thing of the past. The rather snobbish behavior of ruby and sapphire in terms of steep price jumps, drove jewelry stylists to look for alternatives. And there was spinel, moderately priced for a very long time. Spinel is available in range of colors and Burma happens to be an important source for this gem. Interestingly when the U.S decided to ban trade in Burmese gems, they restricted the ban to just jadeite and rubies from that South East Asian nation. So spinels hit the markets and prices started inching up, gem quality spinels are today quite expensive - this is true of all spinel colors with the exception of black spinel, black is still a moderately priced stone as far as spinel is concerned.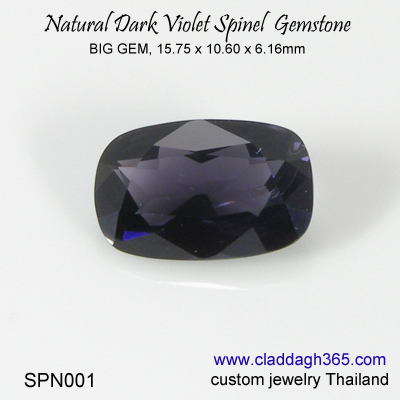 In an effort to bring you exclusive merchandise in terms of gems and jewelry, Claddagh365 presents this amazing dark violet spinel gem. The color is dark but, the gem has impressive clarity and is mined in Myanmar (Burma). This is a big cushion cut spinel gemstone and weighs a tremendous 8.50 carats. You could park this large dark spinel gemstone in a yellow or white gold ring, and get ready for a lot of attention. And while you are boasting about the big size of this spinel gem, don't forget to mention that the stone is natural and untreated. The fact that the big gem shown here is not treated is quite a feat considering that, even the big 3 stalwarts of the world of gems namely ruby, sapphire and emerald are all treated in some way or the other to enhance their beauty and perceived value. So to own such a large dark violet spinel stone and learn that it is not treated is indeed very impressive. This big spinel would look tremendous in a hefty men's gold or silver ring. We at Claddagh365 can craft a fine men's spinel gemstone ring for you, the design for the spinel ring can be provided by you or, we could have our talented designers come up with something really awesome. And if you wish to choose this handsome dark spinel for a ring to be worn by a lovely lady, request our team to come up with a design that allows the gem to take center stage, after it is not often that you will come across such a big spinel gemstone ring. For a women's spinel ring, we would suggest that you keep the visible metal content to the minimum but, do not compromise on the overall durability of the ring. Since the Claddagh365 design team is as proficient in researching design features as in, creating fine pieces of art - we would suggest that you leave the design component to them. But if you do have a dream design in mind for your big spinel ring, send it across to us and we will work out detailed specifications and pricing for the same.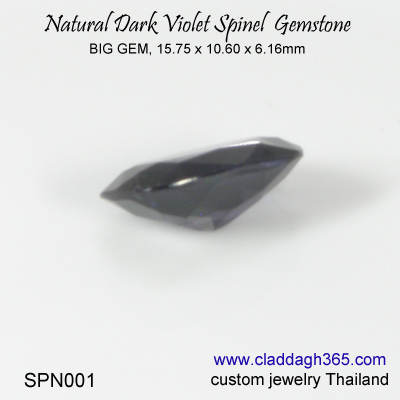 One problem that is often noticed in large gems that are high on per carat price (like spinel) is that, the gems are cut way too thick with too much of depth. The idea is to gain as much weight as possible and thereby, get a high price for the gemstone. Gem cutting operations do not care much about the fact that, a deep gem requires an uncomfortably big depth for the gem to be mounted firmly. The SPN001 dark violet spinel gem shown here is big, it weighs over 8 carats and yet, does not get too bulky in terms of thickness. The dimensions of the gem are 15.75 x 10.60 x 6.16mm and this means that, the depth of the spinel is a reasonable 6.16mm only. We could have technically gone for a depth of upto 8.5mm or even 9mm for the face dimensions of the gem but, that would mean that you pay far more for the gemstone and much of that bulk that you paid for, would be hidden below the gemstone!. So when you set this big spinel gem in a ring or pendant, you will not feel the jewel to be too bulky or clumsy - and the price remains very reasonable too. Spinel is a hard and sturdy gem, suitable for all types of jewelry. On the Mohs scale that runs from 10 (hardest) to 1 (lowest), spinel sits just a step below ruby and sapphire - it boasts of a hardness rating of 8 whereas ruby and sapphire notch up a 9 on the same scale. Just by way of information, spinel is found in a range of colors, blue, red, pink and black are also preferred colors. And if you need spinel in some of these colors, let us know what size, shape and price range you need them in. We will try to procure something to suit your requirement on our next trip to the Myanmar gem mines. We generally specialize in all unique gems from all over the globe. By unique we would mean, large gems, high quality medium sized stones, rare gemstones or even gems with interesting inclusions and natural phenomena.
Claddagh365: We craft all types of fine jewelry in gold or 925 silver. Both gold and silver jewelry is provided with the same quality of workmanship and gemstones. The designs for your jewelry can be yours or ours, and you choose the gemstones that you like and are not limited to gems shown or mentioned on our website. Our support experts at sales@claddagh365.com would be glad to assist you, with any queries or requirements that you have related to gems or jewelry.
Pricing And Technicals:
Gemstone: Spinel (Natural)
Origin: Burma (Myanmar)
Size: 15.75 x 10.60 x 6.16mm
Shape: Cushion - Faceted
Weight: 8.50 Carats
Color: Dark Violet
Treatment: Untreated
Price Per Piece: 1,500 U.S$ + 45 U.S$ For FEDEX shipping. Add 75 U.S$ if you wish to have an AIGS certification for the gemstone. It would be 150 U.S$ for a GIA certification. Despite all these charges, the price is very reasonable since this piece would cost you at east 40% more even if purchased in Burma, 25km from the mining pit. We can tell you that because, we have been there!.
Payment: We accept payment through Paypal, Western Union and Bank Transfers. We generally do not accept Western Union and Bank Transfers from first time buyers. Paypal is the most transparent mode of payment among the three options mentioned above. Let us know which mode of payment you prefer and we will provide details for the same.
Shipping: We will ship through FEDEX with web tracking within, 1 week of receiving payment. If you pay through Paypal using the Echeck option, Paypal advises us not to ship until, the payment has actually cleared into our account. For this reasons, shipments for orders made through Paypal Echeck will need an additional 5-6 days until, Paypal informs us about the payment being cleared. If you have requested for an AIGS or GIA certification for your gemstones and paid the additional fees, please add another week to arrive at the approximate shipping schedule. It might be possible to hasten the certification process by a day or two but, this is not always the case.