Claddagh Tanzanite Gem Stone Ring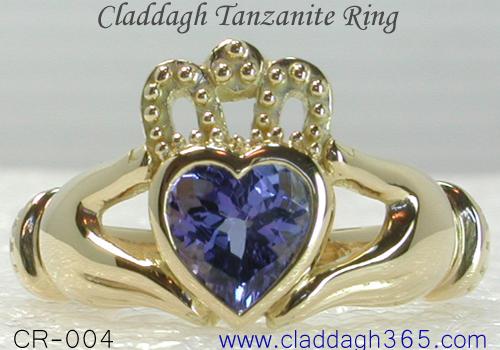 Tanzanite a gemstone with a fairly recent history, accepted to be rarer than a diamond and the claddagh ring one of the most meaningful jewels in history. As we talk about the claddagh ring and exotic tanzanite, we refer to an amazing jewel that was first made almost four centuries ago. Unlike many jewels in history, the claddagh ring did not begin it's story in the royal palaces or in the homes of the rich and wealthy. It was a humble slave who made the first claddagh ring, the young man was Robert Joyce a fisherman by profession but, an unfortunate victim of the crude system of slavery that flourished centuries ago. The ring made by Robert was surely not a claddagh tanzanite ring, the jewel was a simple ring that translated his thoughts and feelings for his beloved into something tangible. As Robert worked for his master a wealthy goldsmith, he drew strength both mental and physical from one thought - the dream of being a free man one day and living the rest of his life with his beloved. A few years later, he was freed from slavery and rushed back to his small fishing village in Ireland named, claddagh. He was overjoyed to learn that his beloved was still waiting for him, he gave her the ring that he had made for her. The ring came to be known as the claddagh ring, the couple were soon married and lived together happily for the rest of their life. The touching story of love and loyalty spread through town and then across the oceans.
So how exactly did the first claddagh ring appear, did it have any typical characteristics or features. If these are questions that interest you, then Claddagh365 is the right place to find the answers. Take a good look at the tanzanite claddagh ring shown above, it most likely appears like a tanzanite heart ring that you have never seen before. More importantly, our claddagh rings retain all the essential features of the first claddagh ring made (by Robert Joyce) almost 4 centuries ago. A 6 month research project conducted by our designing experts, unearthed the story of the claddagh ring, we wish to thank the Irish sources that, so kindly shared information with us. Equipped with the compelling story and background of the claddagh ring, we went about finalizing design details for our ring. The heart shaped center in the ring denotes love, the hands that clutch the heart are extended in friendship and togetherness. The tanzanite gemstone is topped with a crown, a symbol of loyalty - in this case it signifies the loyalty and sacrifice between Robert and his beloved. Since our claddagh rings are generally adorned with a heart shape gem in the center, we have chosen the stunning tanzanite for the CR-004 claddagh tanzanite ring.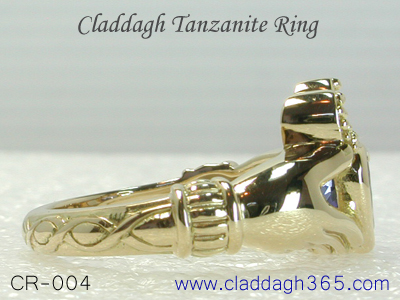 There was a time when most of the claddagh rings ordered from us came with requests for gold but, times have changed now. Typically, rings like the claddagh are worn for their deeper meaning and significance, so the choice of metal or even gemstone does not alter the meaning of the jewel. We custom make each claddagh gem stone ring in gold or 925 silver and ensure that, every ring has the same fine craftsmanship and gem quality irrespective of the metal that you select. Your options for the gold claddagh tanzanite ring are 14k or 18k gold in all three gold colors namely, white, yellow and pink. When it comes to the silver claddagh ring, we do provide plating options that include, white rhodium, yellow gold and rose (pink) gold but, request that you understand one important fact. No plating done on sterling silver lasts forever, time and the degree of wear and tear will result in the plating gradually coming off. If you wish to maintain your silver ring with no fuss, we would suggest that you leave the silver ring unplated. A silver ring with no plating would tarnish but, cleaning tarnish and polishing the ring would be quite easy and you can do it conveniently at home. Commercially available silver jewelry grade polishing agents can be used to polish the tarnished 925 silver claddagh ring. We will leave the final decision regarding metal and plating to you, so give it a thought and make your decision.
A small note about the gemstone color in your tanzanite claddagh ring. You can broadly classify tanzanite gems into three groups of color intensity - light, medium and dark. Most style experts agree that tanzanite with a medium blue-violet color looks most attractive. In this color shade, you get the sensational color of tanzanite but, can also see the stunning glitter as light passes through the stone, hits the facets below and then travels back to the eye. This is the reason why our gem specialists ensure that each gem set in our tanzanite rings, is blessed with a medium color saturation. Having said that, we can accommodate your request for a light color or dark color tanzanite gem too, so email us with any specific preference that you might have. Tanzanite does a great show when set in white or yellow metals but, if you wish to stray beyond the beaten track and have your tanzanite claddagh ring crafted in rose (pink) gold, do let us know and we will be glad to do that for you.
Considering the fact that, tanzanite was first introduced to the jewelry markets as recently as the 1960's, the immense popularity garnered by this African gem is truly impressive. The sheer beauty of tanzanite combined with some very high publicity blitz, propelled this gem to instant stardom. It is therefore not surprising that, it soon laid it's stake to the birthstone charts, in the year 2002 tanzanite was added as one of the options for a December birthstone. Those of you who were born in the month of December have one more compelling reason to, choose this fine tanzanite claddagh ring.