Random Pics From Thailand
The Claddagh365 team takes some time off and roams around the amazing country. We hope to keep filing reports like the one published here. Our business focus still remains on jewelry and gemstones, these reports are just to share the beauty and sparkle of Thailand with you. We welcome your comments and suggestions, please email us at sales@claddagh365.com and we will be glad to hear from you. We will be glad to provide any additional information that we might have for the below images with you. Let us know if something interests you.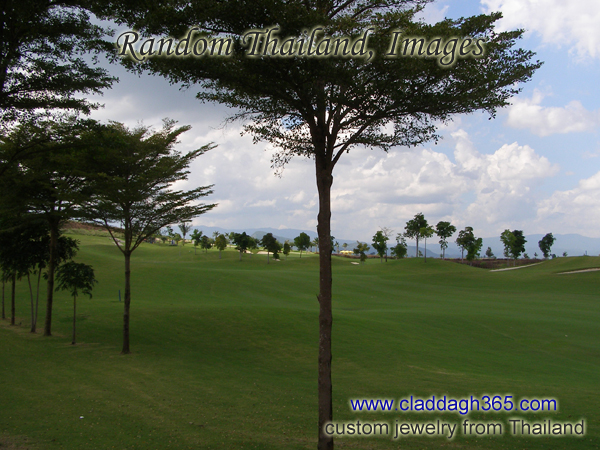 Kanchanaburi Thailand, A Golf Course Set Up In A Depleted Sapphire Gemstone Mine. Kanchanaburi blue sapphires were at one time famous internationally. Traders refer to them as Kanch Sapphires or Kanchanaburi Sapphires. These gems tend to be on the darker side and can often so show hint of green in the blue. Having said that, they provide a good price point that is much lower than what Ceylon Sapphires or even high quality Madagascar Blue Sapphires Cost. It has been a while since any substantial sapphire resources have been discovered in Thailand. At this point, we have a few mine owners trying to revive their search for sapphires in the region. They aim to dig much deeper than they did a few decades ago. Advanced mining techniques and equipment and the hope of, getting high sapphire prices motivate them to keep trying. A few resorts with sprawling gold courses have come up in the Kanchanaburi province of Thailand. The landscape created during the sapphire mining operations is being used to develop green stretches of gold courses.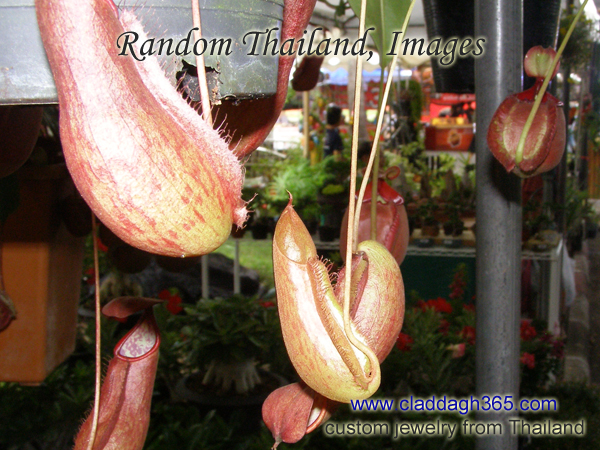 The Agricultural University on the outskirts of Bangkok (Mahavithayalai Kasetsart), has an annual fair that exhibits some amazing plants, flowers and trees. The fair offers a rare glimpse of some exotic plants, like the one shown here. This plant is better known as the 'insect eating plant'. Insects that enter the flower get stuck the inner walls. The Agricultural Show is a great time to get updates regarding the latest growing methods, farm equipment and fertilizers. Don't be surprised if you come across some very learned farmers during the fair, many of them hold graduate and post graduate qualifications in agriculture.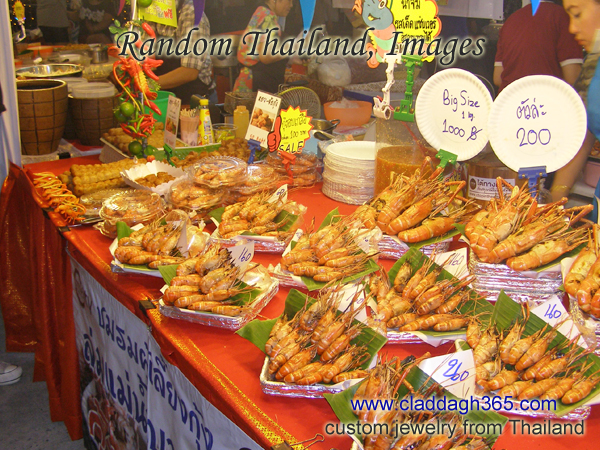 Seafood is very popular in Thailand, don't be surprised if some of these 'sea' creatures are actually grown in the fresh water of a river or pond - they all go under the name if 'sea food'. If you happen to be a fan of Thai seafood, you should not find a place that is near you and within your budget. From the roadside stalls, to the regular restaurants and the big brand name eating houses - seafood in tremendous variety and a range of prices abounds in the country.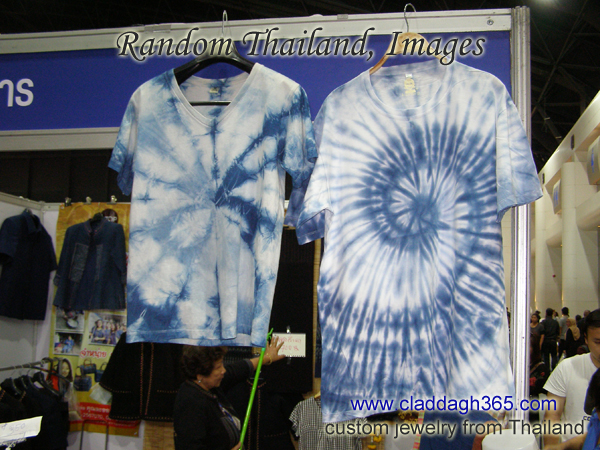 Traditionally Thai batik designs are more prominent in the South but, you can now find them all over the country. This shop stocked some nice ideas that, combine the T-shirt look with blue batik color designs. Great for a casual day at the beach or any outdoor activity. Thailand is hot and generally humid for a major part of the year, T-shirts come in handy. Cheap Chinese garments are today taking over much of the market share so, try to shop something made in Thailand.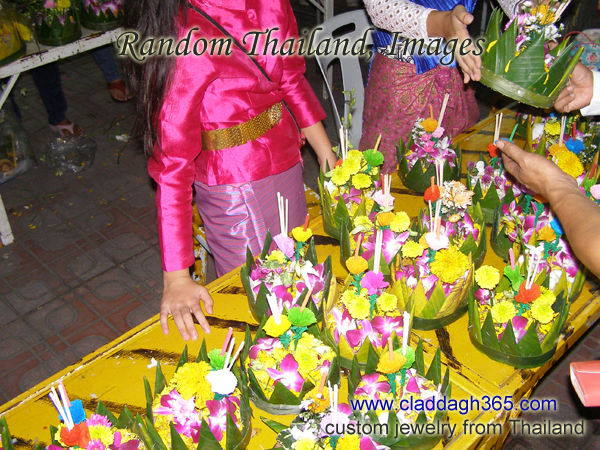 Loy Krathong, a festival celebrated across the country, generally in the last quarter of the year. The word 'loy' means to float and the word 'krathong' refers to the colorful floats, that are floated on the water during the festival. Loy Krathong is not a declared public holiday, people float the krathongs in the river or pond as it gets dark. Generally attracts significant crowds as, the festival is wallet friendly and takes just a couple of hours to celebrate. Most temples hold celebrations for Loy Krathong, you can buy a Krathong in or around the temple. Expect big crowds, beware of pickpockets and do not wear your best jewels and necklaces for the day.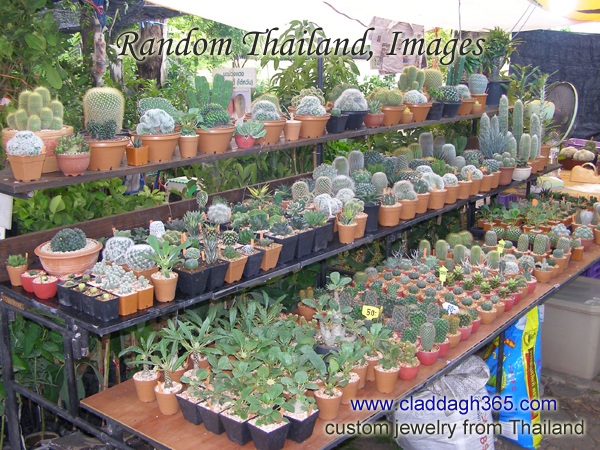 If you walk around a Thai office look for these small potted plants. Girls and ladies of all ages love to keep a pot or two around their workplace. They are not expensive and prices could range from 1$ to 5$, place the pot in a ceramic plate or saucer and you need not worry about soil draining out when you water the plants. There is a belief (likely to be true) in Thailand that plant lovers are generally more peace loving and friendly.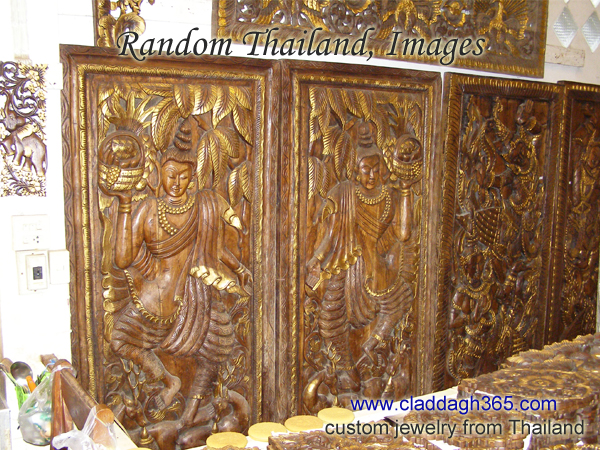 Thai artists have expert skills to execute some absolutely stunning wood carvings. You will find wood carvings in both North and South Thailand but, the style and type of carvings differ widely. Wood carvers in Southern Thailand are known for their hard wood carvings which is often inlaid with mother of pearl. The carving shown above is from the northern region of Thailand. Interestingly, this style is also seen in Burma and Cambodia.