Navel Piercing, Safety First
FINELY CRAFTED NAVEL RINGS AND OTHER JEWELRY, YOUR DESIGNS OR OURS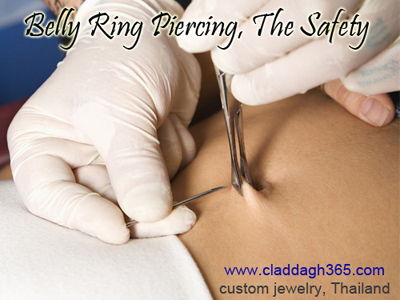 So you want to wear that belly ring, a jewel that is worn as much to show it off as it is to, show off a gorgeous belly. Nice thought and we applaud the sentiment 'got it, so flaunt it'. Should you go for a simple 5$ belly ring mass produced in China, or should you just pick a 1$ plastic piece from the weekend market. Or maybe you should pick that custom navel ring, crafted in gold and studded with precious gems - sapphire, ruby, tourmaline, morganite or even diamonds. Our recommendation is that, you hold it right there. Let's first take care of the safety concerns associated with the piercing of the navel. We have seen small body piercing kiosks offering 'free' belly piercing services, all you need to do is to make a minimum purchase of 10$. It might sound a bit strange that this statement, comes from a reputed online jeweler like Claddagh365 but, here it is. You can cut corners on your budget for a navel ring and even, try to get one quickly and cheaply but, do not use that attitude when it comes to actually piercing your belly. Play safe and search for a clean, safe and qualified place to get the navel piercing done. And if you cannot find one, visit your family doctor and seek advice. This might not always give you a free deal, but it is a once in a lifetime job so get it done carefully, thoughtfully and safely. A navel piercing job can be almost painless, safe and a source of great joy - imagine wearing that bling right on your belly. But this easy and pleasure giving task, can get messy, complicated and be a serious cause for health concerns.
When you finally pick a place to get your belly pierced, make sure that you are provided with a clear list of what needs to be done next. The healing time for navel piercings can vary from a couple of months to even a whole year. Keep checking back with your doctor if, a swelling, discoloration or discharge is noticed in the vicinity of the piercing. It is often recommended that belly rings made from specific material, be worn for a couple of weeks or months after the navel piercing is done. Follow that advice and check whether the place where you got the piercing done, offers such belly rings - you should generally pay no more than 5$ to 15$ for these 'safe' navel rings. Such navel rings might not be very pretty but, you can show off something prettier after the piercing has healed.
There are a few variations in the exact position where, the navel can be pierced and the image shows one of the most popular and convenient positions. Claddagh365 navel rings are perfectly suited for being worn in that position, though a lower lip pierce would also work fine. Notice the place on the navel where the piercing is being done in the image, we could refer to it as the upper lip of the navel. Now, this piercing could also be done on the lower lip of the navel - a similar type of belly ring could be worn with both, upper or lower type of piercings. It is generally agreed by clients and qualified piercing service providers that, the upper and lower lip navel piercings are the simplest to do and the easiest to heal. In any case do not neglect any signs of problems that seem to be develop after the piercing, a doctor would be the best person to handle complications.
The navel or belly button of most individuals match the one shown in the image but, an interesting variation can be the cause for special care. Have you ever noticed that some navels seem to have a small bump like protrusion between, the upper and lower lips. This protrusion might better be described as a button rather than a bump! This situation might call for a special type of navel piercing to be done, some belly ring wearers choose to have the button pierced. In any case make sure that the person doing the piercing and you as the buyer of a navel ring, are aware of this variation. We have heard from belly ring buyers that, piercings done through this button take longer to heal and might also be a bit (more) painful. But once the piercing has been done and the healing process complete, things work out fine and not much fuss is called for. Such variations and special conditions are best handled by places that, offer general medical advice and treatment.
After you have your navel pierced and ensured that it has healed well, you could begin to look for your options to get a suitable belly ring. At this point, keep your mind open and do not stick to one specific jeweler or style - Claddagh365 can custom make a gold navel ring with or without precious stones for you but, we are not the only provider for such merchandise. Just before you stop reading this report here is a piece of advice. General hygiene is always recommended but, is a bit more important when you have a pierced navel adorned with a belly ring. Talk to your medical adviser for general advice and follow it religiously. Don't forget that, the jewel itself needs to be clean and be kept clean.
Claddagh365: We provide fine jewelry crafting services for all types of jewelry in gold or 925 silver. The designs, metal and gemstones for your jewelry can be decided by you. We can source just about any gemstone from any part of the globe so, your gem selection is not limited by what you see on our website. Discuss your requirements or queries with our support team at sales@claddagh365.com they will be glad to help you, you will not be pressured into buying anything from us.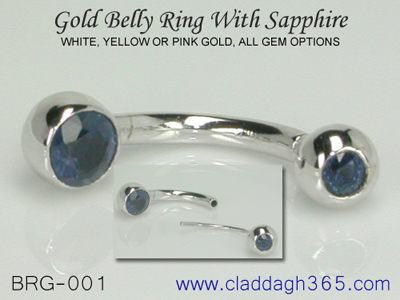 A fine custom navel ring, crafted in 14k or 18k white, yellow or rose gold. Shown with precious sapphire gems, this belly ring can be ordered with the gemstone that you choose. We can also craft your belly piercing ring with the design of your choice ... more.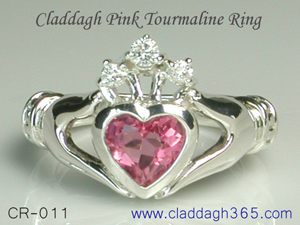 The finest rendition of the four century old Claddagh ring, our rings designed and crafted in gold or sterling silver, retain all the meaning and features of the first ring made centuries ago. Available for men and ladies with your choice of gemstone ... more.