A Pair Of Claddagh Wedding Rings
CUSTOM MADE IN GOLD OR SILVER WITH GEMSTONE OF YOUR CHOICE
It is interesting to observe that, the intention for getting a pair of wedding rings generally, seems to be satisfied with two plain or studded band rings. Fortunately the younger generation seems to have realized that, there is nothing very specific about a plain band ring that makes it suitable for a wedding ring. Our opinion is that, a simple band ring has a concept that is neither very feminine nor male oriented. And since you would expect a pair of wedding rings to have a similar design for the bride's and bridegroom's ring, plain band rings seem to be the easiest option.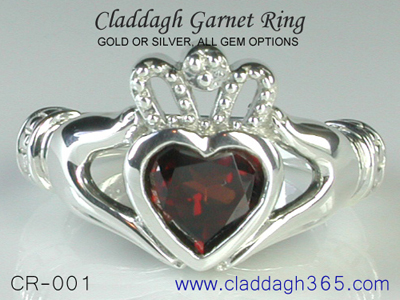 But for the couple that wishes to stay off the beaten track, the choice of designs is much wider - this can also be more confusing. With Claddagh365 offering the 4 centuries old ancient claddagh ring for men and ladies, it is a great idea to pick a pair of claddagh wedding rings. We can custom make just about any wedding ring for you and can do this even, with your own design idea. The reason why we recommend the claddagh ring for this important occasion is that, the jewel perfectly symbolizes the occasion of a relationship - and this is all the more relevant for a wedding. Don't get turned off by the fact that the claddagh ring has a heart shape in the center, it is probably the only heart ring that will look perfectly in place on a man's or lady's finger. Understanding the significance of the claddagh ring is necessary and we will, make that effort to explain the jewel right here. Though you might have not heard of this jewel before, it is not a new trend or fashion but, a historic jewel that was first made 4 centuries ago. The ring originated in Ireland where a humble fisherman turned slave made the jewel for his beloved. The young man named Robert Joyce was one day captured by pirates on the sea and sold to a wealthy goldsmith. Those were the days when slavery was rampant and Robert was forced to work for his master. The physical stress of this tough life did not worry him but, it was the mental agony of being separated from his beloved that, broke his morale.
Robert Joyce tried to pull himself out of the mental depression by, telling himself that he would one day be reunited with her but, there seemed to be no reason to believe that this would ever happen. He then decided to make something for his beloved, something material that would give him better hope - he set out to make a ring for her. Being neither a professional designer nor a skilled artisan, the young man had one objective in mind. He wanted the ring to carry his true feelings for her, it was to be a messenger of his love. Years later when he was freed from slavery, he went back to his village and rushed to meet his beloved. You can well imagine his joy when he found that she was patiently waiting for him. He gave her the ring and the couple were soon married and set up family. The ring was named Claddagh, this happened to be the name of the village in which Robert and his beloved lived. The interesting features of this ring clearly proved how much he loved her, and as seen at the end of the story, his beloved reciprocated his feelings by waiting for him to return. As people started to hear about the ring and the story behind it, the meaning of the jewel became clearer. The ring symbolized love, loyalty and togetherness through the heart, crown and hands. It is this symbolism of the ring that makes us recommend a pair of claddagh wedding rings. You will agree that love, loyalty and togetherness are absolutely necessary for a relationship to work. And there is unlikely to be a more important relationship than that between a husband and wife.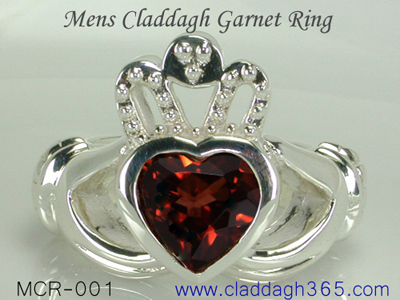 The CR-001 Cladagh Garnet Ring might look great for a lady but, does it look a bit dainty for a men's ring. To be honest yes, the CR-001 ring is better suited for a lady and luckily, we have a men's claddagh ring with a much bolder and impressive design. We refer to the MCR-001 a handsome men's cladagh ring, crafted in gold or silver with the gem of your choice. This ring has a 8mm - 10mm center gemstone and is much larger than the ring designed for a lady. Keep in mind that the Men's Cladagh Ring can be crafted in gold or 925 silver and with, the gem of your choice.
When picking the gems for your claddagh wedding ring pair, these suggestions might be helpful. The concept of a pair of wedding rings does not mean that, both rings should have the same gemstone. Each of you could choose your birth stone for your ring or you might consider, exchanging birthstones in each others rings. The idea of exchanging birthstones in wedding rings is to, give that feeling of 'closeness' even when, the two of you are geographically apart. At Claddagh365 we do not limit the selection of gemstone, let us know what you need and we will procure and custom cut the stone for you. You will find an interesting option below this page, we introduce you to the idea of choosing cladagh rings that have no gemstone in them. You could essentially choose a pair of claddagh wedding rings without any gem or, retain a gem for only one of the rings.
Personalizing: Here are some thoughts on adding individuality to your pair of wedding rings. The selection of the gemstone allows you to express your own preference, so take some time to make that decision. Etching is another great way to add a personal touch to your cladagh wedding rings. The date when you two first met, your nicknames, your initials etc are some ideas. Phrases like 'love always', 'now and forever', 'everlasting love' etc are all suitable etchings.
Claddagh365: We can custom make the jewel of your choice in gold, silver or platinum. The design for your jewel can be picked from our website or sent to us by you in the form of, an image or sketch. Our network for gem procurement extends to every mining center in the world, this means that we can get just about any gem that you need for the jewelry that you order. When it comes to the historic claddagh ring, a thorough study into the tradition and significance of the centuries old jewel ensures that, our rings retain all essential features and meaning of the first ring made by Robert Joyce. Each ring is crafted by skilled craftsmen and is fully custom made, the gold and silver rings are given equal attention as per our strict quality standards. Contact our experts at sales@claddagh365.com to discuss your questions and requirements.
The rings below will give you an idea for a pair of plain claddagh wedding rings. We should let you know that the meaning of this awesome ring, lies in the features of the jewel, so the ring with no stone does not have any less meaning than that with a gemstone in the center. The gem does add to the beauty of the ring and can also be used to personalize it. The first ring made in Ireland by Robert Joyce, had no gemstone and was an all metal jewel. Men often prefer plain cladagh rings as they are easier to maintain but, these rings are not unknown among the ladies too. While you could order both rings in the claddagh pair as plain jewels, it is also possible for one of the rings to have a gem and the other to be plain.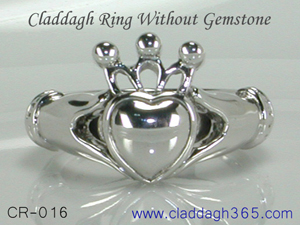 A gorgeous cladagh ring with no gem for a lady, custom made in gold or 925 sterling silver. Request for an option where small diamonds are encrusted in the crown. The pair of rings can be made with the same crown style. Read details for this ring here.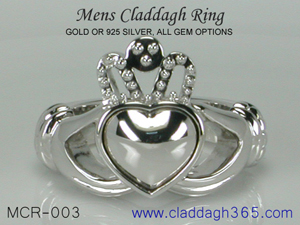 A plain claddagh ring for men, built strong with good metal weight and crafted for impressive appearance. Custom made in all sizes. The pair of rings can be made with similar crowns. Gold and silver are the metal options. More on this jewel here.