Science has confirmed the existence of diamonds in a range of colors and yet, white remains the preferred choice for most diamond ring buyers. The practice of choosing white gold diamond rings, is the result of many conventions and style statements. White signifies purity and truth, this was what ushered in the long era of white gold diamond engagement and wedding rings. The tradition of all-white-weddings, further encouraged people to set the glittering stone in white gold. The CR101 white gold diamond ring, is a symbol of quality and reliability. Each ring is custom made by expert jewelry artisans in Thailand.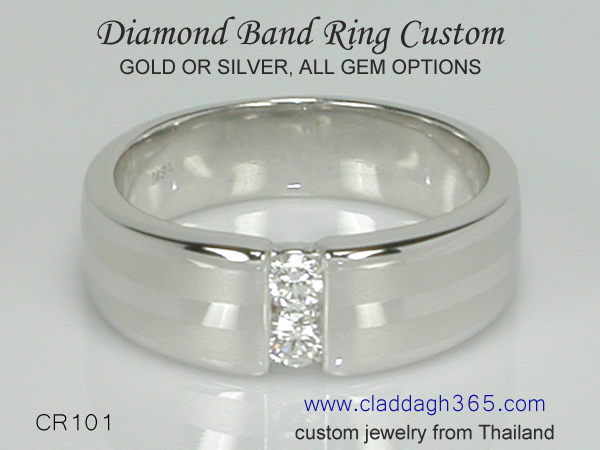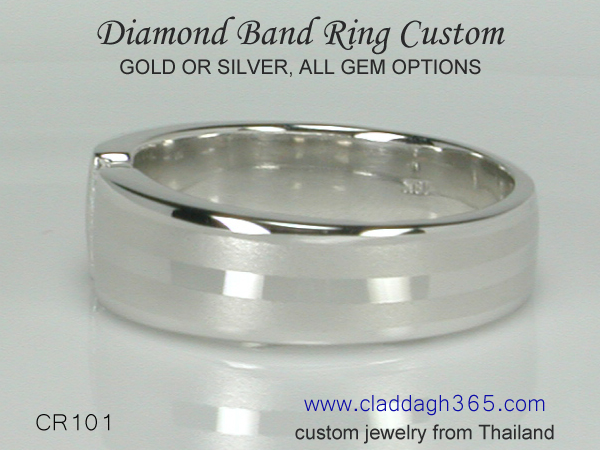 This 14k or 18k white gold diamond ring exudes brightness and life. The glitter of the diamonds is plays a key role even though, the stones are not big and chunky. The interesting thing is that, more than 90% of the diamonds used to craft jewelry each year, are below 3mm in size. You might like to know that even diamonds as small as 0.8mm are used to craft fine jewelry. The logical reason behind this is that, diamonds get pricier (per carat) as the stone size increases.
The CR101 has two diamond size options that you can choose from, you could request for 2.5mm or 3mm diamonds. A white gold diamond ring with 3mm diamonds would obviously, cost more as compared to the same ring with 2.5mm diamonds. The white diamonds set in 18k or 14k white gold, add a sparkle to the brightness of the ring. Look at the ring and all you notice is a bright and energetic ring, the diamonds do not appear tiny and obscure. This extravagant look is surely one of the positive effects of selecting white gold for a diamond ring.
CR101 Diamond Ring Highlights:
Finely crafted in gold and 925 sterling silver.
The diamond gold ring can be ordered in 14k or 18k gold.
You can choose from white, yellow or rose gold.
Each ring is made to order, all ring sizes can be accommodated.
Diamond size options available are (round) 2.5mm and 3mm.
Let us know if you would prefer square diamonds instead of round.
The diamond grade is VS1 with H-J color range.
One or both diamonds can be replaced with gems of your choice.
You can also combine various gemstones and diamonds in the ring.
All diamonds are authentic and closely inspected by our experts.
The ring can be ordered with a uniform or tapered band.
The head height of the ring with 2.5mm diamonds, is around 6mm.
The 3mm diamonds give the ring a head height of around 7mm.
The metal weight depends on the band width and the ring size.
The minimum metal weight of the CR101 diamond ring is 12-15 grams.
You can request for a solid band, with no metal scooping done inside.
Request for a price quote if you need 3 diamonds instead of 2.
We can craft a diamond ring for you, with your design sketch or image.
Customization Tips: As you can see from the images the CR101 white gold diamond ring, has a slight taper on the band width as it moves behind the finger. The band width behind the finger is between 4mm to 5mm, many buyers feel that a tapered band is more comfortable to wear. We provide options for uniform and tapered band widths, so the decision is yours. The requirement for a band with no metal scooping done inside, generally implies an increase in metal weight. We will let you know if your diamond ring, calls for an additional requirement. A short message or name can be etched inside the band at no additional charge. We would suggest that you take advantage of this feature. The design concept for the Claddagh365 white gold diamond ring, is suitable for men and women. This makes the ring a nice choice for a band of diamond bands. If you expect to have a wider band width for a men's diamond ring, here are some suggestions. The diamond size can be increased to 4mm, remember that we can accommodate requests for round or square diamonds. Another option would be to increase the number of diamonds in the ring. You could go for 3 or even 4 diamonds instead of 2, as shown in the regular design concept. The ring is crafted in 14k or 18k gold, we provide options for yellow, pink and white gold.
CR101 Diamond Option Pricing
CR101 Pricing For Gemstone Options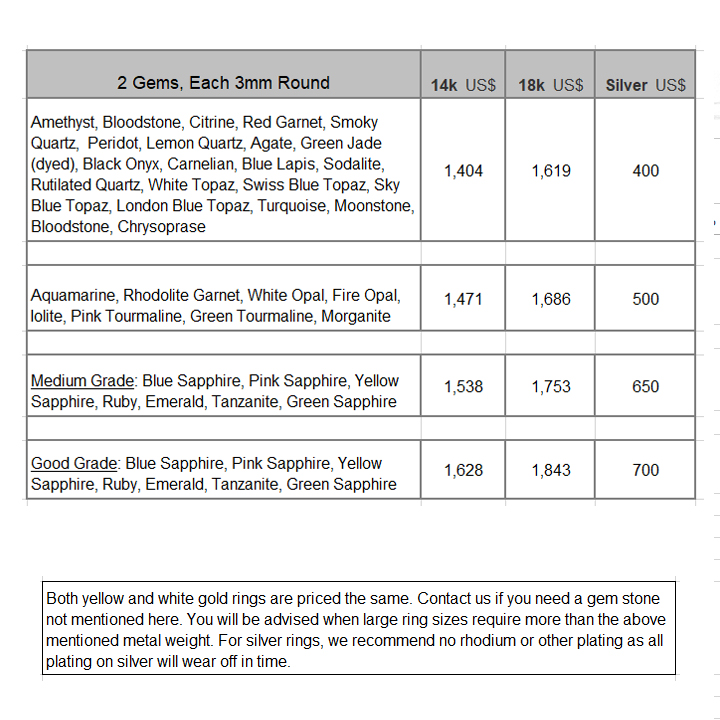 How To Buy: Get in touch with the Claddagh365 team at sales@claddagh365.com and explain your requirements. Remember that your diamond ring can be personalized to suit your liking, we can also make unique one of a kind diamond ring based on your design idea. The price of white, yellow and rose gold remains the same, we provide options for 14k and 18k gold. Make sure that you have all doubts cleared and all queries answered by the support team before, confirming the order.
The production time is 4 to 6 weeks from the date of order confirmation and receipt of payment. Paypal is our preferred mode of payment but, we can also accept Western Union. We recommend Paypal for first time users. Let us know your preferred mode of payment and will provide details for the same. Shipping will be through FEDEX with web tracking. We generally bear the shipping charges for gold jewelry, you will be informed about shipping charges (if any) that would be required to pay.