Custom Rings For Men, Gold Or Silver
Men's rings need to look impressive, they should also have good workmanship and be durable for frequent wear. At Claddagh365 a research project is launched to study, improve and develop men's rings that look good and cater to the lifestyle of modern men. We use the same meticulous strategy when we make a custom ring or jewel based on your design. One of the unique features of every jewel that we create is that, gold and sterling silver are crafted to the same quality standards. Pick any of the jewels on our website and request for it to be made in 10k, 14k or 18k gold or sterling silver. You can request for design modifications, or let us make something unique with your design sketch or image. Backed by the worlds leading gem mining and cutting providers, Claddagh365 places absolutely no limitation on your choice of gemstones. You need not restrict your selection to what is mentioned on our web resources, if there is a gem on this planet - we will procure and custom cut it for your jewel.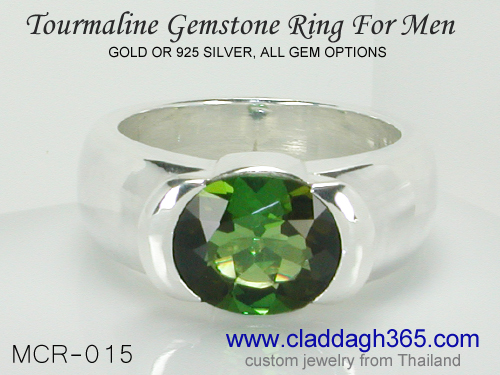 A tremendous large gemstone ring for men, this hefty gold or 925 silver custom men's ring has a big 11x9mm oval green tourmaline gem in the center. Custom made ring in all sizes, gold and silver with your choice of gemstone ... more.
Besides being one of the most meaningful jewels in history, the claddagh ring is also one of the very few heart shape rings that is suitable for both men and women. This four century old ring symbolizes true love, loyalty and friendship ... more.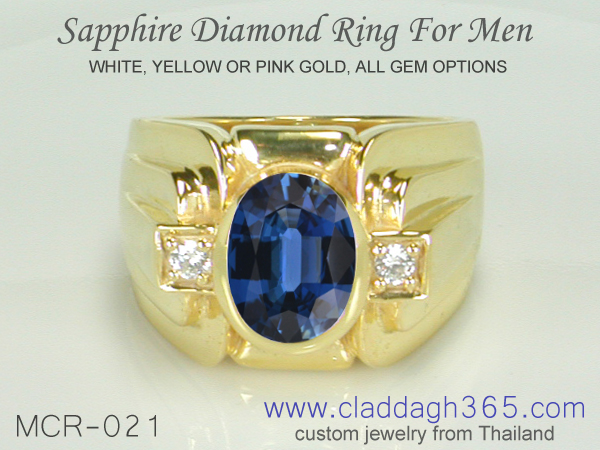 A truly impressive men's gold or 925 sterling silver ring. The jewel is encrusted with a gorgeous blue sapphire gemstone in the center, a diamond stands on either side of the oval sapphire gem. Will delight the style conscious male ... more.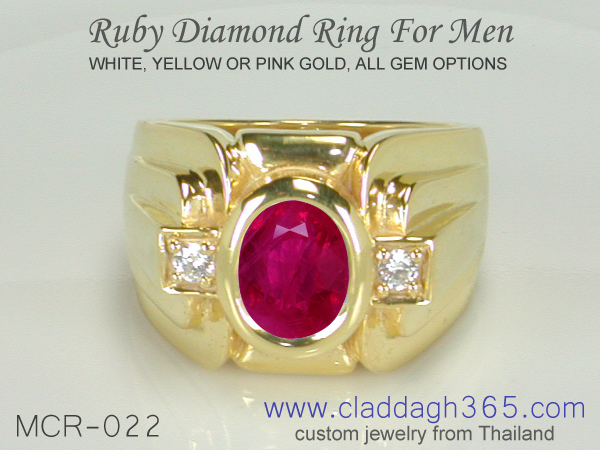 This custom men's ring with ruby and diamond defines a class of its own. Surely not cheap but, offering tremendous value for the price. Custom made men's ring in 14k or 18k gold or 925 sterling silver, available in all ring sizes ... more.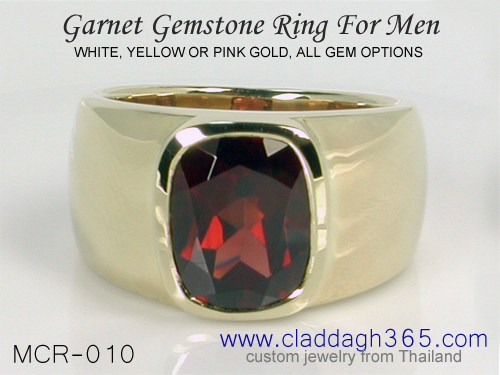 For men with an eye on style, this stupendous deep red garnet ring is a truly must have. A hand picked and custom cut garnet gemstone is set snugly into an imposing 925 silver or gold ring. Add this awesome ring to your collection ... more.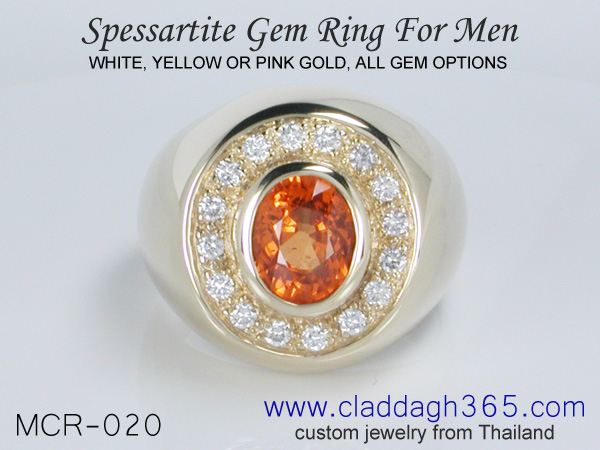 For men who have developed that refined taste for style and expression, a sturdy spessartite ring with diamonds. Crafted to high quality standards and set with a natural spessartite gem, the gem is certified as natural and authentic ... more.