Humans have always accorded a special status for diamonds, there were at one time reserved solely for the royals and aristocrats. In the days of palaces and kings it was often believed that, keeping a diamond on ones body would ensure victory in battle. As time went by, diamonds came to be associated with truth, purity and sincerity. The CR102 diamond band ring is a symbol of luxury, it offers far more style power and glamour than you would expect to find in a diamond ring with such a reasonable price tag.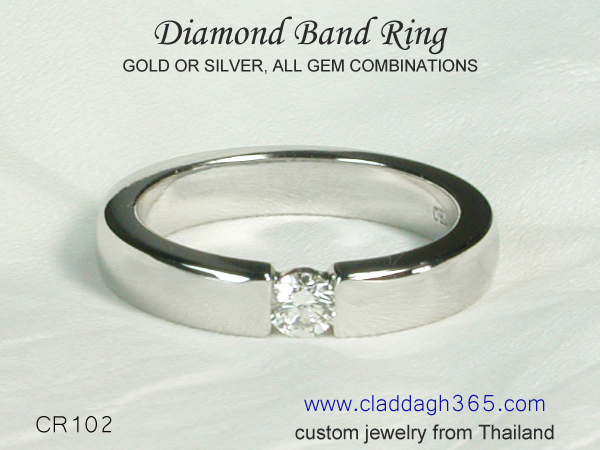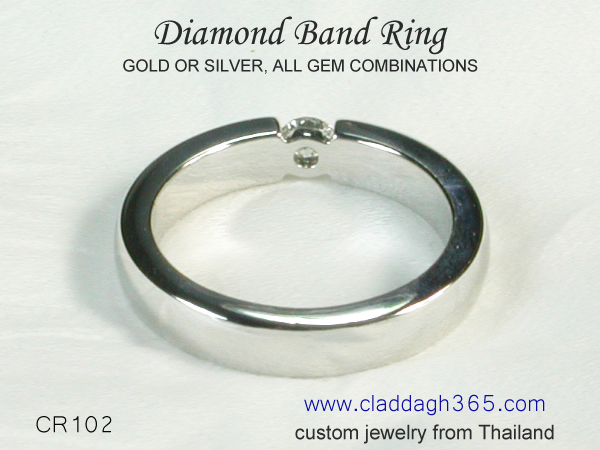 The traditional beliefs attached to diamonds paired with the rarity and beauty of the stone, made diamonds an essential feature of wedding and engagement jewelry. Most of us understand that a quality diamond band would be expensive, jewelers have worked hard to convince buyers that this is the case. Claddah365 revealed a project to design and craft a superior diamond band, the objective was to offer the jewel at a reasonable price. One look at the ring and a brief review of the superior features will prove that, we were very successful.
Main Features Of The CR102 Ring:
The diamond band centers a 4mm or 5mm round diamond.
Experts carefully check and evaluate every single diamond.
You can order your diamond band ring in gold or 925 silver.
Options for 14k and 18k gold in all 3 colors are provided.
The band width of the ring is very close to the size of the diamond.
The ring can be ordered with a gemstone instead of a diamond.
The gold and silver diamond bands have the same quality standards.
The 15 to 18k gram metal weight, makes the ring long lasting.
Larger ring sizes might require more weight to maintain durability.
Each ring is made to order, all ring sizes are available.
Make a specific request if, you need a band with no scooping done.
Your diamond band ring can be crafted with a design provided by you.
You will notice from the main features mentioned above that, the CR102 diamond band ring, has a band width that is close the size of the diamond. So why did we settle on the 5mm to 7mm band width, would it be possible to make a 9mm or 10mm diamond band with a 4mm or 5mm diamond. By maintaining a band width that is near to the diamond size, the ring gets a bright and extravagant look. Explaining this more effectively we would say that, the entire band width it punctuated with a diamond. You could surely request for a 8mm to 10mm band width for your ring, we will be glad to quote a price for the same on receiving your request.
And why did we not pick a larger diamond for this ring. To explain this, you will need to understand the pricing structure of diamonds. Remember that we are talking about one the most expensive stones to be set in jewelry. Diamonds are classified by clearly defined grades, you might have heard about the 4C's related to diamonds. While the 4C's stand for cut, clarity, carat and color, the price per carat of a diamond varies according to the stone size - this even when the diamond grade remains constant. A larger diamond will cost more per carat as compared to a smaller stone of the same grade. Interestingly more than 90% of the diamonds consumed by the jewelry sector each year, are in the 3mm or smaller size range. Diamonds that are as tiny as 0.8mm are heavily used in making fine jewelry. You will now agree that a 4mm diamond is really not small, the stone will surely flaunt itself with much effort.
Pricing for the CR102 diamond band ring. The price quoted is for the 14k gold ring, please add another 200 U.S$ to the prices mentioned below if you prefer to have an 18k gold diamond ring. The price for white, yellow and rose gold remains the same. Request for a price quote if you wish to go for the 10k gold diamond band.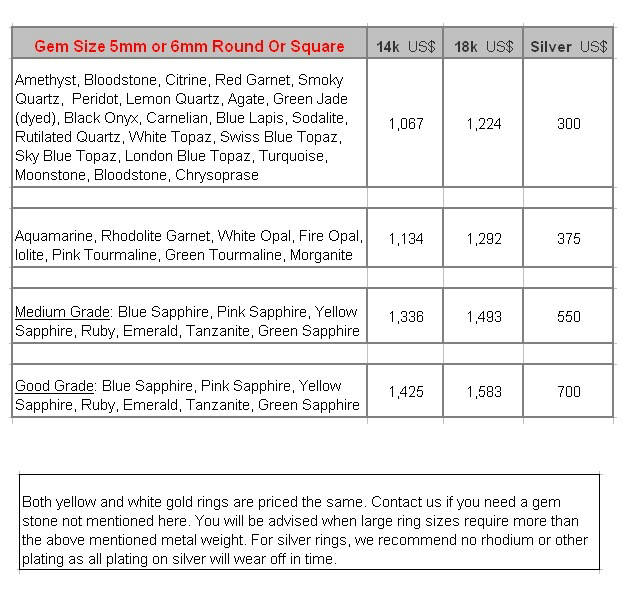 This ring would look awesome on men and women, the design is a timeless classic and simplicity is something that works well for diamond rings. A more elaborate design with complex features, would dilute the sheer splendor of the diamond in this band ring. The option for a gemstone instead of a diamond, allows you to pick gems that are as large as 6mm to 7mm or even bigger. This would obviously push up the band width of the ring, something that many men would prefer to have. The practice of the couple choosing a pair of engagement or wedding rings, is backed by a logical explanation. Anything that connects the couple is a welcome trend, wearing rings with a similar design concept builds a bond that can help develop the relationship.
So what if you wish to go for a pair of diamond bands, one for him and one for her. Claddagh365 is the best place to shop for such bands. Request for a 3mm diamond band for the lucky lady and keep the 4mm diamond band for her man. What you should know is that, the rings need not have the same metal, metal color or diamonds / gems. You could retain the design idea of the CR102 ring and request for a 5mm ruby for her ring and a 6mm or even 7mm blue sapphire for his ring. A better way to handle this requirement would be to consult the Calddagh365 support team. Don't worry about making a purchase, get all the information you need and then consider where to make the purchase from.
How To Buy: Despite the shift to instant buying and payments ushered in by online shopping channels, we are of the opinion that impulse purchases are not suited to fine jewelry purchases. Discuss what your requirements with our experts at sales@claddagh365.com , do not worry about buying anything. Make sure that you have all the information, suggestions for options and pricing and then, move to the next stage. We can also craft your diamond band with a design concept provided by you.
Each diamond band is completely custom made, we do not rely on ready made molds and fixed gemstone inventories. You select 14k or 18k gold, the gold color of your choice and let us have the ring size required. Sterling silver is an option for all Claddagh365 custom jewelry, both gold and silver are crafted to the same superior quality standards.
Production takes around 4 to 6 weeks from the date of order confirmation and receipt of payment. We recommend Paypal as a mode of payment for all buyers but, can also accept Western Union if that is what you prefer. Payment details will be provided once we know your preference.
Claddagh365: Working with Thailand's finest artisans and gem cutters, we craft jewelry designed by some of the most talented designers. More than a dozen design consultants spread across the globe, work as expert consultants to ensure that Claddagh365 jewelry is well above market standards. Most gem mining locations give us the first preview of their exclusive gem collections, this is the reason why we place absolutely no limitation on your gem selection.