The Claddagh Engagement Ring
Before we jump to conclusions that the claddagh ring, one of history's most meaningful jewels is just and engagement or wedding ring, let us make a few clarifications here. The meaning and significance of this ring that was first made about four centuries ago by an Irish slave, is relevant to everyone - people of all ages, genders, religions and nationalities. It is just that the message of love, togetherness and loyalty is of even more importance for young couples who promise to spend the rest of their life together. After all few of us can hope to have a cordial and worthwhile relationship without these 3 qualities.
An engagement is about commitment, two individuals who have thought it best to marry and stay together. This is a solemn promise and is likely to be the most important decision that a person can make. This commitment underlines the significance of an engagement ring, the jewel symbolizes the commitment. The craze for diamond engagement rings has often driven young men into debt as they strive to get an extravagant jewel that, they cannot comfortably afford. The 'rule' that a man is supposed to spend around 2-3 months salary on her engagement ring, is hyped to benefit jewelers. In our humble opinion, the price tag on the engagement ring has NOTHING to do with the degree of commitment that the two individuals will invest into their relationship. Haven't we seen celebrity weddings fall by the wayside even when, the engagement was publicized with a diamond ring costing hundreds of thousands of dollars!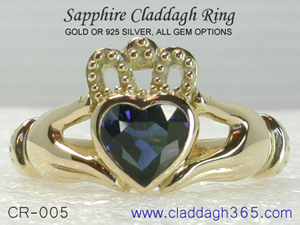 Back to the claddagh engagement ring, the topic of our discussion. When you choose a claddagh ring to mark this solemn occasion, it is a good idea for both of you to become aware of the tremendous meaning and touching story behind the jewel. Here is a brief summary of the claddagh ring meaning, the story takes us to a small Irish fishing village in Ireland named Claddagh - we travel back in time, about four centuries back. A young fisherman named Robert Joyce was once captured and sold as a slave when his boat was attacked by pirates. Robert was forced to work for his master a wealthy goldsmith from whom, he gradually learnt the trade. The working and living conditions of a slave were oppressive, tough and mentally stressful. These were things that Robert was not afraid of but, it was something else that literally tore him apart - the thought of being separated from his beloved who also lived in the Claddagh village. With this mental condition he knew well, that his work would soon suffer, something that the goldsmith would not be willing to accept. A simple dream of an unpredictable event was not enough to pull him back from the mental agony. After all there was nothing sure about the life of a slave, it was not uncommon for slaves to be sold by one master to another in those days.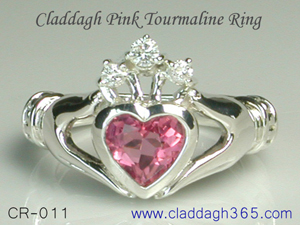 In the hope of getting some mental balance, Robert Joyce decided to make a ring for his beloved. With this objective, he could at least dream of being a free man one day. He could then return to his village and be reunited with his beloved. For many years, the thought of meeting his beloved remained a mere dream but, the ring kept his mind focused and positive. A few years later when he was released from slavery, Robert rushed back to his village and was thrilled to see that his beloved was still waiting for him. The couple embraced each other and he gave her the ring, they were soon married and happily lived the rest of their life together. While you can read the more detailed story of the Claddagh Ring Meaning, the brief summary perfectly brings out the touching story behind this historic jewel. The ring came to be known as the Claddagh ring and is sometimes referred to as the 'hands holding the heart' ring. The features of the claddagh ring depicted Robert's true feelings for his beloved. The heart symbolized love, the hands denoted friendship and togetherness and the crown showed his loyalty to her. Many people refer to the jewel by it's symbolic meaning and call it the 'friendship, love and loyalty' ring. Having read this story and understood the underlying significance of the ring, there is little doubt that a claddagh engagement ring would be one of the finest jewels to symbolize the important event.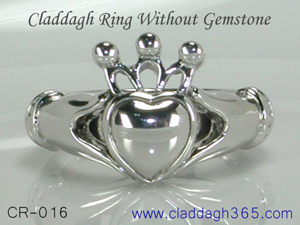 Experts at Claddagh365 invested several months in researching the meaning and history of the claddagh ring. The findings from this research formed the basis for the design and concept of our claddagh rings. This thorough study helps us ensure that each claddagh ring that we craft, retains all the essential features of the first ring made centuries ago. When choosing a claddagh engagement ring, keep a few interesting options and ideas in mind. The gemstone for your engagement ring can be selected by you, the heart shape in itself bears the meaning of love but, you there is more to it. Many of you might choose your favorite stone for the center but, give a thought to picking a stone that has special meaning. You could for example go for a gold or silver claddagh engagement ring with her birthstone or go for the increasingly popular trend and exchange birthstones in your rings. And if you wish to announce the big event with one of the big 3 gems of all time, request for a ruby, sapphire or emerald ring. Color has caught on in a big way when it comes to wedding and engagement rings, so open up to gems beyond the big three too - tanzanite, pink tourmaline, aquamarine and even more moderately priced gems like blue topaz and red garnet are some great ideas. Claddagh365 custom makes claddagh rings with fine craftsmanship and hand picked gems in gold or sterling silver, you choose the gem for your ring.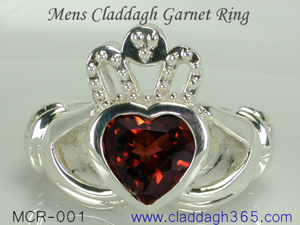 Let's come back to something that we mentioned earlier in this report - the money spent for an engagement ring. We mentioned that a high price does not imply a bigger or more serious commitment between the couple. So when you evaluate your options for a Claddagh365 custom engagement claddagh ring, give a thought to the metal and gem selection. The metal options for your claddagh engagement ring are gold and sterling silver. As expected the price difference between a claddagh gold engagement ring and a similar ring in sterling silver, is quite substantial. The same is true about various gem options for the ring, you could even have a plain claddagh engagement ring without a gem in the center. If red is your favorite gem color remember, that ruby which happens to be one of the most expensive red gemstones is not the only choice. Red garnet, red spinel and and even (red) rubelite are all red gems. Since the true meaning of the claddagh ring are incorporated into the features (hands, heart and crown) and not the type of metal or gem, do not strain your finances. You can always choose a moderately priced 925 silver engagement ring and keep the expensive ring purchase to celebrate an anniversary or your first child together. We would suggest that you consider all engagement and wedding expenses before spending heavily on the ring - a jeweler would not give such advice but, we have your interest at heart.
Rings On This Page: We have studded this page with images of various claddagh engagement rings crafted by some of the finest craftsmen at Claddagh365. You can order any of these jewels in 14k or 18k white, yellow or pink gold and 925 silver is also an option. The gemstone for the gold or sterling silver engagement ring will be selected by you, it is not necessary that the gem you require is show or mentioned on our website - we can procure and custom cut just about any gem that you wish to have. Since each ring is fully made, we can accommodate requests for all ring sizes.
CR-005: Blue sapphire the darling of jewelry lovers got a major dose of publicity when Kate Middleton wore the famous (late) Lady Diana, sapphire gem in her engagement ring. A reserve of the royals and powerful for very long, sapphire is a hot favorite for engagement rings. Choose a gold or silver sapphire claddagh engagement ring to celebrate your big day. We provide options for pink, green, blue and yellow sapphires ... more.
CR-011: With diamonds becoming a 'not so essential' part of engagement rings, young couples are taking a deep dive into the sea of colored gems. In ancient times it was believed that, tourmalines passed through the rainbow as they traveled to earth - capturing the colors of the rainbow they contribute some of the finest colors to the world of gemstones. This gorgeous pink, tourmaline and diamond engagement ring has just the right degree of glitter and the perfect dose of style. Your choice of pink or green tourmaline is always available ... more.
CR-016: The classic original claddagh engagement ring, the 4 century old ring was first made with no gemstone in the center. A plain engagement ring with no gem is easier to maintain and wear, it can also be a bit more economical since the gem cost is not loaded on the price tag. Crafted in gold or silver, you can still request for the option of three small diamonds in the crown. Keep in mind that a claddagh ring with no stone, has the same level of significance as one crafted with an expensive and exotic gem ... more.
MCR-001: Never heard of a men's heart engagement ring? Well here is probably the only one - the claddagh men's engagement ring shown with a deep red garnet gem. And if you plan to skip the men's engagement ring, wear this meaningful ring for the wedding celebration. The features of the men's and women's claddagh ring remain the same but, the men's ring is built larger and stronger, keep the option for a plain ring with no gemstone in mind (CR-016 done in the men's ring format) when ordering ... more.
Claddagh365: Crafting the finest gold and 925 silver custom jewelry Claddagh365, offers the same quality of craftsmanship and gems for all metal options. With our gem procurement expertise that covers every gem mining location in the world, you can select the gem of your choice and not be limited to what you see on our website. Our experts at sales@claddagh365.com will be glad to assist you with any information or guidance that you need. You are also welcome to send us your own images or sketches for a custom jewelry quote.