Jewelry And Gems Related, Light Hearted
FINE CUSTOM JEWELRY IN GOLD OR SILVER, YOUR DESIGN AND GEM CHOICE
Light hearted chat related to gems and jewelry, some of these snippets are interesting notes from the news media, others are gossip and still others make for an interesting read. If you have a few moments to spare, browse these bits and gain some knowledge or at least carve a smile on your face.
While flowers and especially roses would take the top spot for valentine's gifts, fashion gurus are urging buyers to shop for rose gold jewelry. After all roses can wilt, dry and die but, rose gold will maintain that warm glow forever! For those of you who were not aware, rose gold is as precious as yellow or white gold. The purity of rose gold would depend on the karatage defined by the metal - what this basically means is that, 14k yellow, white or rose gold would have the same content of pure gold. At Claddagh365, we offer all three gold color options for custom made gold jewelry.
Gold and opal could exist on planet mars. Scientists seem to be more excited about this one than even, the most ardent lovers of gems and jewelry. Scientists desperately draw a parallels between the geographical and climatic conditions in Australia, with conditions on Mars (probably millions of years ago) and this, leads them to believe that opal could definitely exist on Mars. No mining rush for now though as, a gemologist would refer to the opal quality being described by the science community as 'potch' which means, plain, lifeless and valueless opal. As for the gold on mars, it is claimed that the precious metal most probably, got plastered on the surface of the planet (in some parts) by asteroids that struck from outer space. At this point of time, no human being has been sent to planet Mars so we presume that, it is safe from the environment damage that gold mining could cause. Just by way of information, at least 10 to 30 tonnes of mud and rock needs to be dug up to yield just one ounce of pure gold.
It's official, the U.S census website lists some interesting places to find and declare love this Valentine's. Here are some interesting places to consider when planning a date with that special person in your life, a list of Valentine destinations we prefer to call it. If it is roses and flowers for you, head for Rose City in Texas or Michigan, Rose Hill Acres in Texas, Rosemont in Maryland or Illinois. All romeos are welcome at Romeo in Colorado or Michigan and Romeoville in Illinois. And if you want to be spot on with your valentine, carry her off to Valentine in Nebraska or Texas. Say it straight from the heart at, South Heart in North Dakota or Sacred Heart in Minnesota. Love is not in scarcity and you got some amazing places to flaunt it, Lovelady in Texas or Ohio, Loveland Park again in Ohio, Loves Park in Illinois, Lovelock in Nevada, Love Valley in North Carolina, Loving County in Texas, Lovington in Illinois and New Mexico and probably a few more. No matter where you head to celebrate Valentine's make sure that you travel safe and stay safe. Don't splurge beyond your means on gifts and celebrations! And most importantly, keep loving and stay loyal, love is about giving and sharing - it is also about loyalty and togetherness.
It seems that it is not only precious metals that have fallen in love with gems and diamonds. Cosmetics have now started getting seduced by these glittering beauties too. That extravagant lipstick cases have recently been studded with diamonds is not much of a secret today. And it is not just the packaging mind you. Stones like malachite, lapis lazuli, diamonds and even sapphires are being ground to a fine powder and mixed into various creams and lotions. While some of these are said to add life to the skin and smooth away wrinkles, a bold cosmetic manufacturer uses crushed diamonds in a special skin cream - the diamond powder reflects light at least, that is what the manufacturer claims. Lapis powder was mixed with natural or animal fats and then applied as eye shadow - this is not new, Egyptian ladies knew that formula thousands of years ago.
Elizabeth Taylor had quite a history when it comes to getting married again and again. But the fashion community chooses to remember just Richard Burton and Mike Todd - both from the film industry but more importantly, both of these men doled out large sums of money to pay for Taylor's flashy bling. Mike Todd gifted her the irresistible Cartier ruby and diamond set - necklace, earrings bracelet et al. Interestingly the gift was given to Taylor as she was swimming in their private pool. Richard Burton almost built a personal jewelry showroom for the gorgeous lady - the Taylor-Burton diamond, the La Pegerina Pearl, the Krupp Diamond and also an amazing diamond and emerald necklace from the best place, Bulgari. Some of these priceless jewels owned by Elizabeth Taylor were acutioned at various times, part of the money was donated (by her wish) to charity. We say ... 'when you love to take, you should be willing to give' .
Will this grow into a popular trend in Japan and will it, begin to spread across the world - we really do not know. The Japanese seem to be setting a near trend that we could refer to as 'untying the knot in Japan', it seems scary at first but there could be some symbolic appeal that helps the ex-couple. Divorce ceremonies are generally managed by special agents, they aim to symbolically separate a divorced couple in a way that, makes it easier for them to put the past behind and (separately) begin a new life. An engagement and wedding is always symbolized by a ring, the jewel seals an important relationship between two individuals. A divorce ceremony involves destroying the wedding ring, this is done with a huge frog shaped hammer . Just as with a wedding ceremony, the separation ceremony could be a simple event with just a handful of guests or, a bigger show with many guests where food and drinks are served. The destroyed ring is often placed in a small tray and floated in a pond or stream. We did hear that in many cases, the 'ring' is a cheap symbolic jewel and not the actual wedding ring! The story could end in a better way if, the sales proceeds from the ring are donated to charity.
The Claddagh Wedding Ring.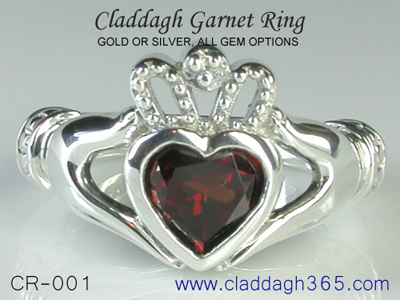 For anyone who has heard of the story and significance of the four century old claddagh ring, it would seem that there could be no better choice for an engagement or wedding ring. We would prefer to refer this ring as a 'relationship ring' as, the meaning of the jewel is relevant to just about any relationship. A daughter could gift a claddagh ring to her mother, a husband could gift the ring to his wife and a loving couple could choose the jewel to symbolize the most important relationship in their life - a wedding or engagement. There would be just one thing better than choosing a claddagh wedding ring and that, would be to choose a pair. Claddagh365 crafts fine claddagh rings in gold and silver for ladies and men, you choose the gemstone and ring size for your jewel. While the ring is shown here with a red garnet gem, you could choose the gem of your choice for your rings. Both men's and ladies rings are available with or without gemstones too. Before you decide to pick or leave this awesome jewel, make sure that you read the complete report on Claddagh Wedding Ring Pair, you will learn more about the meaning of the ring and also why it is perfect for such an important occasion. Our support team at sales@claddagh365.com will be glad to answer any questions that you might have. There never is any obligation to make a purchase from us so, you could take our advice and suggestions and then work with any other jeweler of your choice.