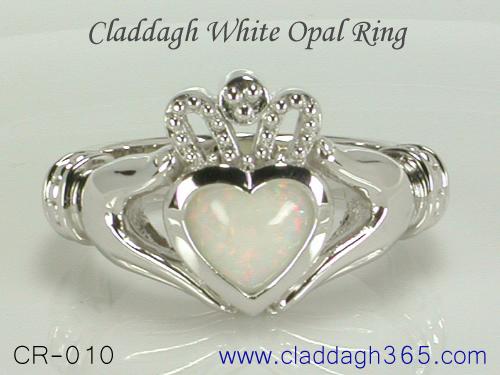 The claddagh opal ring is available in gold or 925 silver with the ring size of your choice. It is true that a gemstone adds tremendously to the desirability of a jewel and opal, is a great example. Opal is found in a range of varieties and the heart opal gem shown in the CR-010 is a white opal with the highly sought after 'play of color' phenomena. In ancient times, Pliny the Roman elder was impressed by the colorful flashes seen in an opal, he described it as a gemstone that combined the colors of many other gems. Historical records reveal an interesting school of thought it stated that, the colorful flashes in opal were formed when the stone was struck by lightning. In more recent times, the birthstone charts published in the year 1912, assigned the distinction of a birthstone to opal. This was the birthstone for the month of October. A few decades later, tourmaline was added to the list of October birthstones. Interestingly, there was a time when opal was painted as an unlucky gem. The exact origin of this belief is not clear but, some gem enthusiasts claim that it was a concerted move made by diamond traders, they apparently were worried about the growing popularity of the alluring gemstone.
There is a lot of folklore and traditional belief that could encourage you to buy a claddagh opal ring but, you don't really need that many excuses - the mystical beauty of an opal combines with it's rarity to make it an irresistable jewel. The Claddagh365 gold or 925 silver opal claddagh ring is designed to look pretty but also, incorporates many advanced features to add to the durability of the jewel. Gemstones have differing degrees of hardness, the Mohs scale rates hardness on a scale from 1 to 10 where 10 is the highest and is something that a diamond boasts of. Opals rank around 5.5 to 6.5 on the scale, not exactly fragile but something to be kept in mind in wearing the gem. Notice how the heart shape white opal is set in the CR-010 ring, the gemstone has it's entire edge covered with metal. This is a type of gem setting that offers maximum protection from side impact. We hand pick and flawlessly cut every opal gem that we use, this allows us to keep a tight control on stone dimensions and depth. An opal gem that is cut with a high profile would show a considerable bulge above the ring surface. A bulging gem is more likely to get hit against hard objects and get damaged. This is another issue that is meticulously taken care of by our expert gem cutters and craftsmen.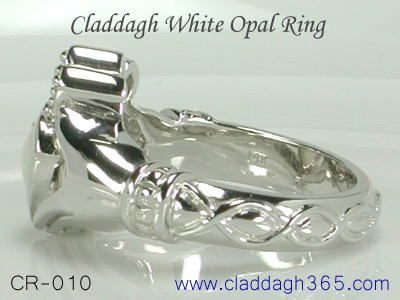 The silver or gold opal gemstone claddagh ring is invested with the same quality of craftsmanship and gemstone. The spike in demand for quality silver jewelry in recent years looks like becoming a permanent feature. Jewelry lovers have come to appreciate the timeless appeal of sterling silver and we welcome orders for gold or silver rings. The choice of a 14k or 18k opal claddagh ring is not very critical. The healthy metal weight of our rings ensures that the ring withstands wear and tear irrespective of the gold karatage. You can therefore a 14k or 18k yellow, white or pink gold claddagh ring with opal based on your liking. When you talk about silver rings, you need to understand the pros and cons of plating the jewel. Silver by it's chemical composition will always tarnish over time, jewelry manufacturers recommend rhodium, gold or even platinum plating on silver rings to protect the jewels from tarnishing. The truth is that, the plating done on silver will act as an anti-tarnish agent only as long as, the plating remains. Any plating done on silver will come off after some time or after a degree of wear and tear. Remember that while the opal might be your favorite gem, the claddagh ring itself is bestowed with significant meaning and significance. Ideally we would expect that you would want to own and wear our claddagh rings for years and decades. Keeping this in mind, we would recommend that you do not go for the plating option on your silver white opal claddagh ring. Cleaning such a sterling silver ring will be easier if the jewel never had any plating to begin with.
We did talk a lot about the amazing opal, let us now shift focus to the claddagh ring - a historic jewel with history that dates back to almost four centuries. The features of the opal claddagh ring are interesting, a heart shaped gem in the center is held by two hands, a crown is set on the center heart. The first claddagh ring was made by an Irish slave named Robert Joyce for his beloved, the young man dreamed of giving her the ring if and when he was freed from slavery. The main features of the ring - the heart, crown and hands symbolized the true feelings that he had for her. Robert's love for his beloved was depicted by the center heart, the crown showed his loyalty to her and the hands implied that they would always be together, even when confronted by the toughest times. On being freed from slavery a few years later, he rushed back to his village (named Claddagh) to meet his beloved. You can well imagine his joy when he learnt that, she was faithfully waiting for him after all these years. He gave her the ring and the couple were soon married, they lived the rest of their life together. The jewel came to named after the village and was called a Claddagh ring.
As you will now understand, this gold or silver claddagh opal gemstone ring, has a gem that has been historically known and a theme that is centuries old. We will now like to offer some tips to help you take the right care of your opal ring. This information is relevant to all opal rings and gemstone jewelry with opal gems, so do spend some time reading it. All opal gems contain some amount of moisture and this, is one of the secrets of their beauty. You should therefore not expose your claddagh opal ring to heat, this could dry up the moisture that is naturally present in the gem. Do not expose your opal ring to situations where it can be struck by physical impact. Opal jewelry should not be cleaned in ultrasonic cleaners, do not expose the gem to strong chemicals or detergents. Your opal claddagh ring and any other jewel, should not be stored bundled together with other gems and jewels. Choose a jewelry storage box that reserves a small padded compartment for each jewel. When it is time to clean your gold or silver claddah opal gemstone ring, make sure that you use nothing more than some clean water, a tiny amount of very mild liquid soap and piece of soft, clean cloth. Any cleaning operation that calls for more than this, should be handled by a professional jeweler.
Our opal claddagh rings can also be ordered with pink opal or fire opal. You can review our Fire Opal Claddagh Ring, before you make your buying decision.
Claddagh365: Our claddagh rings are crafted by highly skilled craftsmen in gold and sterling silver. You can choose the ring size and gemstone of your choice when ordering your ring. By sourcing gems and custom cutting each piece we ensure that, your selection is not limited to what you see on our website. The design for our rings has been finalized after conducting a thorough research into the history and significance of the jewel. You can therefore rest assured that the ring retains all the features and meaning of the first ring made 4 centuries ago.
Below Is The Price Table For Our Claddagh Rings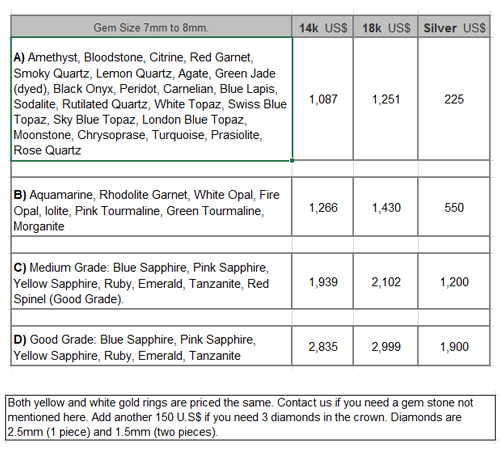 The white opal gem is priced in the gem group labelled B) in the table. You can email our team at sales@claddagh365.com with any questions that you might have. Let us know if you need a gem not mentioned in the price table. We can accommodate requests for all ring sizes for the gold or 925 silver claddagh ring.
Production time is 4 to 5 weeks from the date that we receive payment to confirm the order. Payment is accepted through Paypal and Western Union. First time buyers are advised to choose Paypal for their transaction. You can let us know your preferred payment mode and we will send you details for the same.
Shipping will be through FEDEX, the shipping charge is 35 U.S$ for upto 5 rings.