Men's Green Tourmaline Ring
When you hear about men's tourmaline rings, reference is generally made to green tourmaline. The deep green color of tourmaline has impressed both men and women. Sri Lanka (formerly Ceylon) was the first region to come into close contact with tourmaline gems. This explains why the Sri Lankan word 'turmali' inspired the name 'tourmaline'. The Sri Lankans were aware since ancient times that, tourmaline could be found in a range of colors. The word turmali means, mixed stones and this very likely implies the various colors in which tourmaline is found.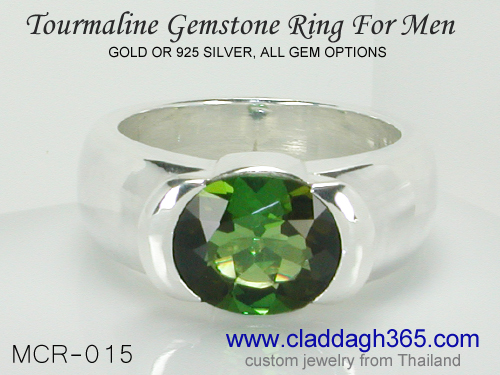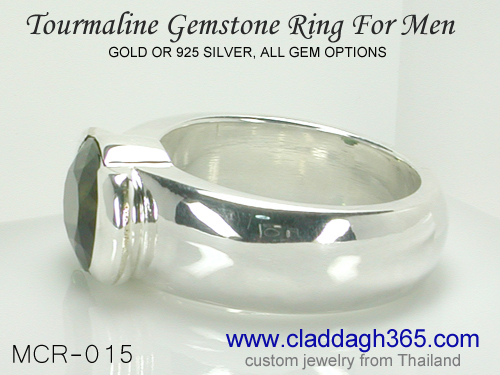 There was a time when men were satisfied by getting a gem color of their choice in the rings that they wore, they really did not care much for ancient history or folklore attached to the gemstone. Things have changed today, men are still interested in gem colors but, pick gems that have an interesting history linked to them. The colors of tourmaline can be explained by scientifically testing the elements present in the gems, but a more interesting explanation is present in ancient folklore. The Sri Lankans believed that tourmaline was a gift from the Gods and on their way to earth, the gemstones passed through a rainbow. The implication was that, the gem got its colors from the rainbow.
MCR015 Men's Ring Highlights:
The ring is available in sterling silver and 14k / 18k gold.
A price quote for a 10k men's ring can be provided on request.
The gemstone is a 11x9mm oval green tourmaline gem.
You can request for the gemstone of your choice.
The gold tourmaline ring for men weighs around 25 grams.
The sterling silver ring, weighs around 20 grams.
The ring is custom made in all ring sizes.
Rings can be made to order with your own designs.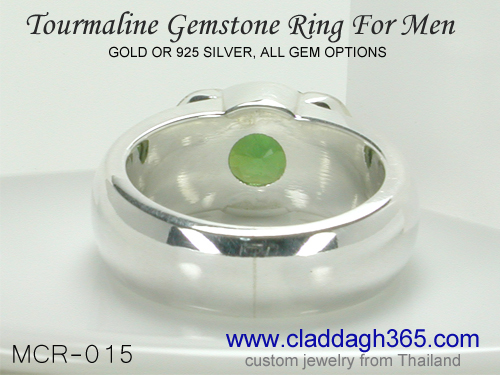 The MCR015 men's tourmaline ring is a hefty jewel. A large 11x9mm oval green tourmaline gem, adorns the gold or silver ring that is crafted by master craftsmen. The gem is natural and not synthetic, you can request for a gemstone authenticity certificate when you order the jewel. Unlike most jeweler who offer lower grade gems and workmanship for silver jewelry, we at Claddagh365 maintain the same quality standards irrespective of the metal selection. You could order the men's gold tourmaline ring in 14k or 18k gold and specify, yellow, white or pink gold. If you prefer to order a 10k tourmaline ring for men, email us with your requirements and we will work out a price quote for you.
The men's 925 silver tourmaline ring will be a superior jewel, we would recommend that you leave it unplated for a specific reason. All platings done on silver will be temporary, wear and tear will cause the plating to come off. While it is true that all silver jewelry will tarnish with time, it will be much easier to clean and polish a silver ring that has no plating done on it. We leave the final decision to you, so let us know what you need.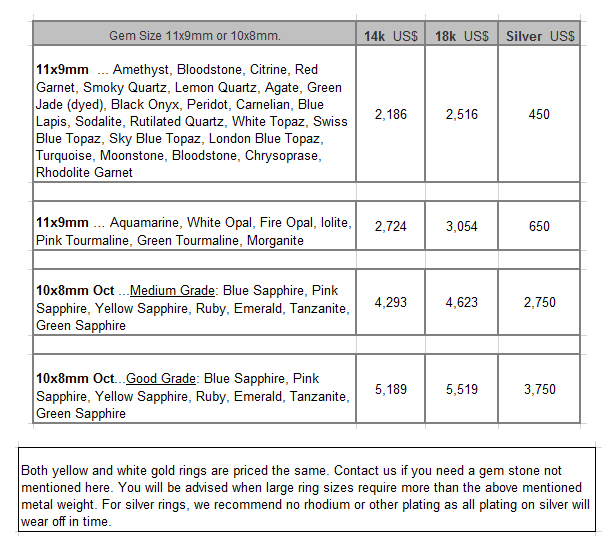 How To Buy: We at Claddagh365 prefer to have a personal interaction with visitors to our website. We therefore do not believe in the impersonal 'Click To Buy' culture of modern day online sellers. If you wish to buy this men's tourmaline or any other jewel from our website, email your requirements to the support team at sales@claddagh365.com , we will get back to you promptly with details and suggestions. We can also custom make both gold and silver jewelry based on your images or sketches.
We accept payments through Paypal and Western Union but, recommend Paypal for first time buyers. Let us know which mode of payment you prefer and we will provide details for the same. Production time is 4 to 6 weeks from the date of order confirmation and receipt of payment. We will ship through FEDEX and provide you with the tracking number the moment the parcel ships.