Sustained Price Rise For Rubies
FINE CUSTOM JEWELRY IN GOLD AND SILVER WITH YOUR CHOICE OF DESIGN AND GEMSTONES
Ruby prices have been moving upwards for the past 3-4 years and gem dealers have stopped finding excuses for this behavior. The 2008 embargo on Burmese rubies by the U.S seemed to leave buyers with little choice. Big named jewelers claimed to do the ethical thing and started promoting, other red gems - rubelite and red spinel benefited from that move. Thailand was still serving the local market with Burmese rubies but, exporting them in large numbers was not quite easy. In came the news about Mozambique and Tanzanian rubies and Mozambique seemed to have found favor with jewelers and gem dealers. Prices were modest and quality seemed to be improving, this was until it became known that the U.S would not be letting Burma off the hook on both rubies and jadeite. The Africans seemed to have taken a lesson in price management from the Burmese, Mozambique rubies started their upward journey on the price graph.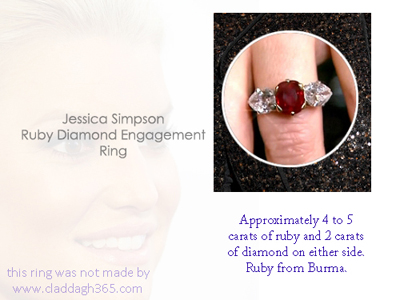 In the year 2010, Jessica Simpson the singer-actress flashed her new engagement ring, this was not the usual celebrity diamond chunk but, a stunning ruby diamond ring. The center was assigned to a 4-5 carat pigeon blood red ruby, this had to come from no other place but the famed mines in Burma. Politics aside, there is no other place on this planet that can deliver such beauties, it has to be Burma. This ruby diamond engagement ring did not compromise on diamonds either, a 2 carat diamond graced each shoulder of the extravagant jewel. The press blurted out a 100,000 to 150,000 U.S$ price for this ruby engagement ring, a professional jeweler would tell you that this was indeed a very good price for such a gem and such a ring. One smart scribe even commented that though it was a gorgeous ring, the fact that it was not a diamond ring meant that it was money not well spent. Not sure whether the scribe was a qualified sports writer with sparse knowledge of bling, baubles and sparkles but her comments were utter nonsense. According to our estimate the jewelers who sell to such celebrities add at least a 30-40% premium on their prices. What this essentially means is that, if this same ring was to have been purchased in a jewelry store by you and me, we would have got it for around 30% less. Keeping hefty U.S jeweler margins in perspective, we would say that the bare cost of the Jessica Simpson ruby engagement ring, would be around 60,000 to 70,000 U.S$. This does seem way too cheap for a 5 carat high end Burmese ruby ring but, we should believe the dozens of reports that mentioned the 100,000 to 150,000 U.S$ price tag. A ruby that large and that gorgeous would surely be rarer than a diamond. Diamonds are found in no less than 25 mining locations across the globe but, the quality of ruby in Jessica Simpson'e engagement ring is found in gems from just ONE location and that is a small area in Burma.
Let us see what the Jessica ruby diamond ring would cost in today's market scenario. We would put the cost of that ring if made in Thailand, to be be around 120,000 to 150,000 U.S$ today. And this would put the retail price in the U.S at around 160,000 U.S$ to 200,000 U.S$. Jessica's high pitched jeweler would probably sell it to some celebrity like her for around 230,000 U.S$ to 250,000 U.S$. Mind you this is an estimate but, a fairly good one.
Options For You: And if this is the price trend for the red beauties from Burma, what about a simple minded couple who wish to celebrate their engagement with a ruby engagement ring - they surely would not wish to pay that much for the ring. Fortunately things are not all that bad and you can choose a few options. Firstly make sure that you get a heated ruby and not one that has been fissure filled or cheaply oiled to make it appear prettier. Simple heating of rubies and sapphires has been going on for centuries, gem experts accept that treatment as the effects are permanent and the treatment, does not reduce the hardness or durability of the gem. Our advice would be to go for a natural, heat treated ruby that looks good - do not splurge a premium by insisting on a ruby from Myanmar (Burma). Take a good look at Mozambique rubies and keep your eyes on good color and clarity. If you find a gem that interests you, expect to pay around 40% to 50% more for a Burmese ruby with similar characteristics. Remember the bigger the ruby the higher the per carat price, moderate your dreams to accommodate a 1.5 to 2 carat ruby gemstone. If you wish to add some sparkle to the ruby ring, go for a 3mm to 4mm (maximum) round diamond on either side of the center ruby. Diamonds in the I-J color range and VS1 to VS2 clarity range should be fine. No one would be inspecting your ruby diamond ring with a gemological loop, so do not pay more for something that would have never been noticed in the first place. With all those features in place, you should aim for a price tag of around 3,000 U.S$ to 5,000 U.S$ for that ring. Mind you this is the value that you will get in Thailand if you choose a fine custom jewelry provider like Claddagh365. But if you wish to buy that same ruby engagement ring in the U.S or most of Europe, you would end up paying around 5,000 U.S$ to 8,000 U.S$ for the same ring.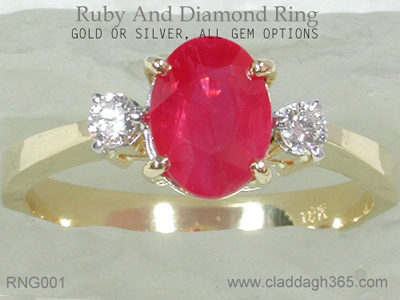 Ruby is a stunning gem and has always been a symbol of status and power, it today translates into economic power as not many of us would spend big on a ruby ring. It is hard and durable and along with sapphire, comes second in hardness to only the diamond. Red is the color associated with love, truth and loyalty this along with it's extreme rarity makes it an awesome choice for a wedding or engagement ring. Let us get you informed about the RNG001 Ruby Diamond Ring, it has always been our hottest selling ruby engagement ring. The ring has fine workmanship, good quality diamonds, a healthy metal weight and comes with options for two grades of rubies. The gorgeous jewel is very modestly priced at around 3,000 U.S$ to 5,000 U.S$. And if you have a much higher budget allocated for your ruby engagement ring, let us know and we will try to work out other attractive options. For a small additional fee we can even provide you with an authentication certificate for the ruby. The testing and certification for the gem will be independently done by the well known AIGS or GIT laboratory in Thailand. Let us know if you are very particular about getting the gem certified at GIA and we will oblige but, please note that this laboratory happens to be the most expensive place to have a gem checked and certified.
We do hope that you have gained a substantial insight into the price range and features of a ruby engagement ring. Our objective is to educate you and empower you to take the right buying decisions. Where you end up buying your ruby ring from is irrelevant to us as long as, you are getting the right value for what you paid.
Claddagh365: While we are best known for our fine gold and silver claddagh rings, we also craft all types of jewelry in gold or sterling silver with the gemstones and design of your choice. When you choose to work with us for your jewelry requirements, you have complete control over every aspect of the jewel. We do not work with fixed gem inventories or pre-fabricated jewel molds. Our skilled artisans make each jewel with passion and dedication. Do get in touch with our experts at sales@claddagh365.com with any questions or requirements that you might have. We will be glad to guide you even if, you do not wish to make the final purchase from us.