Garnets Are Not Always Red - Spessartite
Since ancient times, it was presumed that garnets are always red. The bible talks about 'carbuncle' a gem name that most likely includes both red garnet and ruby. Garnet is designated as the January birthstone, red continues to be the most popular option for a January birthstone. The concept of birthstones originated a very long time ago, those were the days when gems were identified by merely looking at them. Garnets in colors other than red were unknown, so January was thought to be best represented by red garnet. In this report we introduce you to a spectacular gemstone, the gem is spessartite and happens to be a variety of garnet.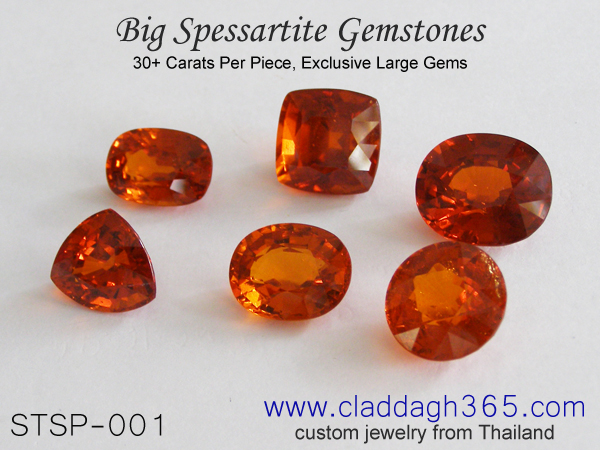 Spessartite Orange To Brandy Orange Color
Spessartite or Spessartine refer to the same gemstone, this stone can range in color from orange, move into a more spicy brandy orange color and then merge into a deep red. If you wish to wear an exotic spessartite ring, go for deeper oranges or brandy shades, these are absolutely stand out colors that will never appear dull or out of fashion. Many jewelers do not stock spessartite, few have never heard of the gemstone. Claddagh365 with its wide network of gem procurers, prefers to keep you updated with a wide array of colored gemstones. After all, gemstone jewelry is about style and prestige.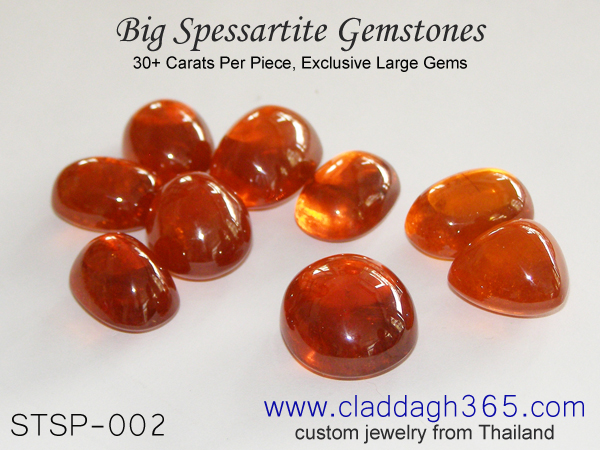 Big Faceted And Cabochon Spessartine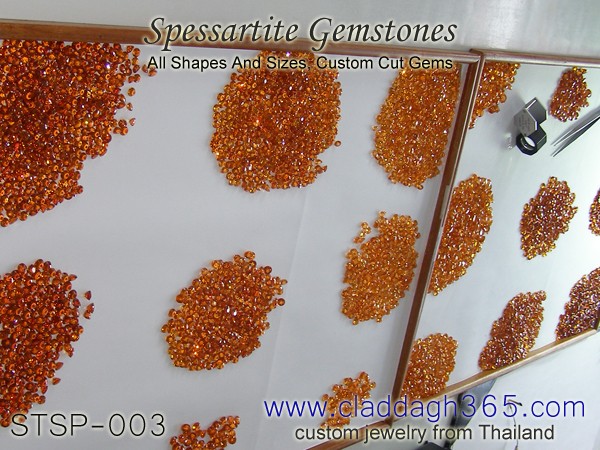 Spessartite Garnet, Sizes 3 Carats And Up
Red garnets would have been formed a few million years ago, it is very likely that spessartite dates back to the same period. However the fact that spessartite is very much rarer than red garnet, is what probably kept it away from humans for very long. Spessartite was first introduced to the gemstone markets a few decades ago, that is indeed quite recent. The first collection of gems were mined in Namibia, the orange color impressed stylists and gem experts alike. After a short while, African stone dealers stopped bringing this orange beauty to the table. The truth is that, the Namibian spessartite resource were very limited, depletion was quick. Talented designers got a new lease at spessartite when, Nigerian miners discovered the stone in their nation. There was not too much in the Nigerian mines, gem buyers turned to Tanzania with hope. Tanzanian spessartite garnets began to appear, and then sizes started to drop and clarity began to get lowered. As we write this report, Mozambique has introduced its own spessartite, the gem is stunningly elegant - it has a fine brandy color. Gem buyers are taking the stones as they get released into the market, no one is brave enough to wait and watch. A handful of big gem buyers are cornering most of the spessartite from Mozambique.
Claddagh365: We custom make all types of jewelry with your designs or ours. You can choose from gold and 925 sterling silver and rest assured that, the same superior quality standards are maintained for both metal options. We have preferential access to the world's largest gemstone resources, your choice of gemstone need not be restricted to what you see on our website. Contact our gem and jewelry specialists at sales@claddagh365.com for any requirements or questions that you might have. We will be glad to help you even, if you plan to by nothing from us.