Thai Church Sapphire Statue
Thailand is predominantly a Buddhist nation but, people of different religions live in harmony. Churches are not rare in Thailand, most large cities have a couple of them. There is one Thai church that deserves mention, this church is situated in the 'gem province', Chantaburi. About 300km from Bangkok is a rather quiet and gorgeous province, this place is well known for its gemstone markets. Life is slow and easy except for a few days a week when, the gemstone market draws visitors from both Thai and foreign gemstone merchants.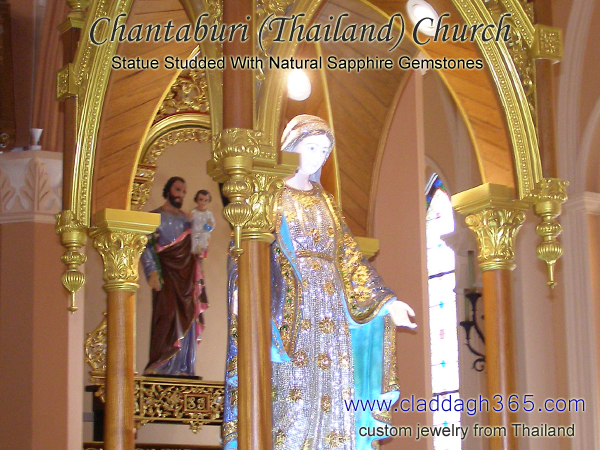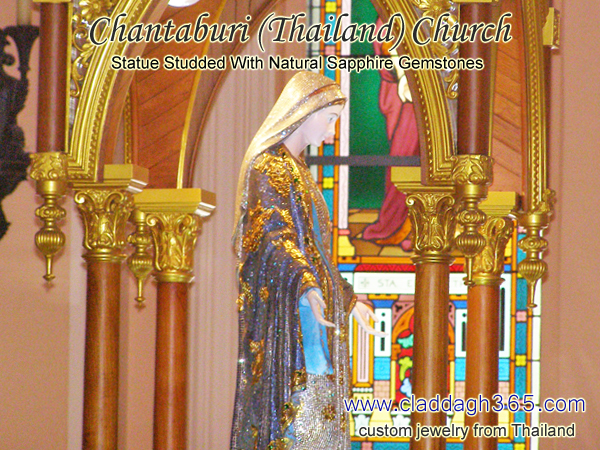 The amazing thing about this Thai church is the, sapphire studded statue. It is very unlikely that you will come across such a gorgeous gemstone studded statue in any part of the world. The location of this Chantaburi church is not very far from the main gemstone markets. Gem traders in the province, contributed all those sapphires. These are natural sapphire gemstone.
The interesting thing is that, many of those gemstone contributions came from gem traders who are Buddhist. Having said that, you will come across some Christian gem traders in Chantaburi. Residents in this province are proud to have the church and the gemstone statue in their home town. Religious differences and loyalties have not played a role here.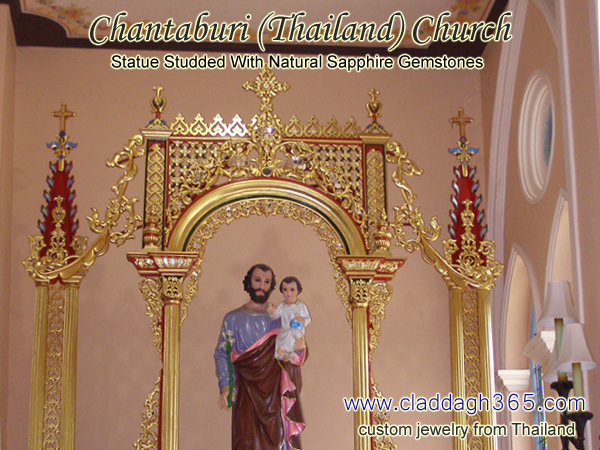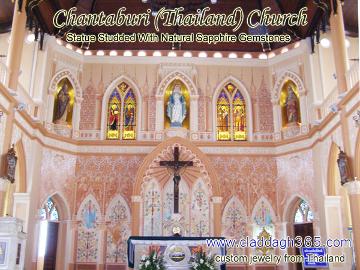 So what if you wish to see this Thai church in Chantaburi, how could you get there. The first thing to keep in mind is that, transport within the province can pose a challenge. Most residents have cars and motorcycles at their disposal, this did not allow the development of a regular taxi service. You can hire a 'motor cycle' taxi but, be warned that this mode of transport is prone to accidents. Buses and vans run from Bangkok to Chantaburi but, these still leave you to struggle with local transport options. The best way to reach Chantaburi would be to arrange for a taxi or private van to take you there, show you around and then bring you back. Your hotel or apartment reception, should be able to work these for you.
You surely would not want to travel all those 300km from Bangkok, just to see one church. There are a few places of interest in Chantaburi. The province has some nice and relaxing water falls, let your car or van driver gather details and take you there. You could also visit a local beach 'Chao Lao' by driving around 15km from the main town. Hotels push the 'Ocean Park' tour packages but, the place is quite an ordinary show.
Chantaburi has a nice sprinkle of hotels, the KP Grand in the heart of the gemstone market is probably the most convenient. You also have some nice resort cottages in the vicinity of the beach. Food is also available in restaurants located in the larger shopping malls. Big C, Robinson and Lotus Supercenter are worth a visit. The pizza shop is located in Lotus Center. Besides the larger shopping complexes, you will also come across a number of 7 Eleven, Lotus Express and Mini Big C convenience stores.
Purchasing gemstones is a complex jobs, new comers can face a number of challenges. This is true across the world and not just in Thailand. While the most blatant scams would involve, duping buyers with fake gemstones, it is also possible to get overcharged for natural and authentic gemstones. Our suggestion would be not to make any purchase of high value, without taking along someone who has good knowledge about gems and jewelry.