December Birthstone Claddagh Ring
The gems listed as the birthstones for the month of December remind us that, the gemstone world has more than just sapphire to show off in terms of blue gems. December has not one but three gorgeous blue gems listed as its birthstones. A claddagh birthstone ring for this month could have a tanzanite, blue zircon or turquoise gemstone. Just by way of information, blue sapphire is the September birthstone and therefore does not find a place here.
Tanzanite was added to the list of December birthstones in the year 2002, it is one of the most exotic gemstones known to the gems and jewelry industry. Don't forget that the gem is so very rare that, experts assess it to be around 1,000 times rarer than diamonds. When you choose a gem like tanzanite you actually reveal your refined taste for style and jewelry. You could buy a December birthstone claddagh ring for yourself or for someone special. As a self purchase, you deserve a gem as rare and tremendous as tanzanite. And if this tanzanite claddagh ring is a gift, it shows just how much you treasure your relationship with her. The receiver could be your fiance, your wife or even your own mother.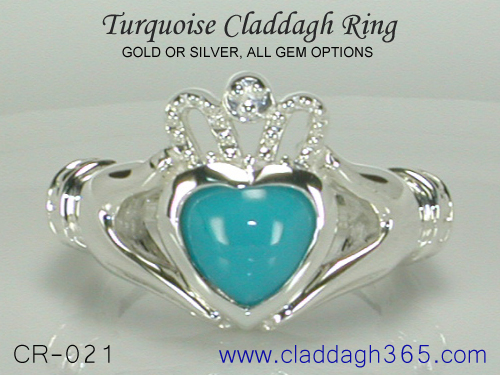 Turquoise is another birthstone for December, this opaque blue gem has a loyal following. It is not uncommon for people to be attached to the old gemstone list, tanzanite with its fairly new entry might not impress them. Turquoise with its classic looks as an appeal of its own. If you wish to wear a December birthstone claddagh ring with a vintage look, turquoise should be your choice. The CR-021 Claddagh Turquoise Ring is available in gold and 925 sterling silver. A 14k or 18k gold turquoise birthstone claddagh ring can be ordered in yellow, white or pink gold. Each of these gold colors reveals a unique color contrast with the gemstone. And if you are in love with more than one December birthstone, the choice is easy to make. Build a collection of birthstone claddagh rings over a period of time. You can then include tanzanite, blue turquoise and blue zircon gems in your collection. From the price point of view, turquoise is less expensive as compared to tanzanite, this might be something that you may want to consider. And if you would like your turquoise claddagh ring to have diamonds in the crown, that is an option available for all our claddagh rings.
Blue Zircon Birthstone: We did mention that blue turquoise, blue zircon and tanzanite are all birthstones for December. At Claddagh365 we place no restrictions on your choice of design or gemstones. If you wish to have a December birthstone claddagh ring with blue zircon, please email your requirements to our support team at sales@claddagh365.com we will be glad to provide details of pricing and other options.