Opal Cladagh Rings, Gem Facts And Folklore
FINE CUSTOM MADE JEWELLERY, GOLD OR 925 SILVER - YOUR CHOICE OF DESIGN AND GEMS
The popularity of the opal cladagh ring cannot be doubted, it has been one of the most queried and ordered cladagh gemstone ring for Claddagh365. The October birthstone has always been a highly desired gem throughout history except, for a brief period when a misunderstanding labelled it as a 'bad luck' stone. The beauty of most opals lies in the flashing play-of-color where specks of different colors seem to dance on the stone. This amazing effect is all the more fascinating as it is dynamic and changes with a movement of the stone or the light source. For the moment, don't be tempted to label all opal that does not show the play-of-color as inferior or 'potch' opal. As knowledge about gems, crystals and minerals advanced, scientists became aware of opal varieties that are gorgeous and yet, do not display that well known phenomenon.
Much of the folklore and history related to opal gems refers to white opal or black opal basically, opals that show the play-of-color effect. You really cannot blame history because, the other gorgeous opal varieties like pink opal and even the scintillating fire opal were unknown during those days. The Opal Cladagh Rings report will introduce you to the world of fire opal gems, an orange to red gem with an impressive transparency. This is indeed interesting because most opal that you could across would be translucent or opaque. The pastel pink opal from Peru is another attractive opal gem that, does not attempt to flaunt any play-of-color display. So if you are looking for an opal cladagh ring today, you have a range of opal gems to choose from. We at Claddagh365 place absolutely no restrictions on the choice of gemstones and designs, your preference and imagination rules.
In ancient Greece and Rome, opal was one of the most desired gems and this reflected in it's value at that time - higher than that of diamonds. The Roman's believed that opal was evocative of a sensuous complexion, they therefore labelled it as the 'Cupid Stone'. While Pliny the ancient scholar mentioned opal in his writings, Shakespeare talked about it in Twelfth Night. In the Middle Ages it was believed that, wearing an opal gem helped protect the eye sight. This was the reason for the gem being called othalmios during that time, the word meant 'eye stone'. Some time later the practice of wearing opal in Europe was at times motivated with the hope that, the wearer would not experience his or her hair turning grey!
The discouraging news about opal bringing bad luck during the 14th century, was supported by a misunderstanding rather than sound logic or experience. Those were the years when the world was ravaged by the dreaded plague disease. Thousands suffered the symptoms of a very high fever which at that time could not be explained, death was almost certain. People noticed that the opal stone if worn by a person when sick, changed color when the person died. Modern science today confirms that the observation of color change in opal might not be wrong but, attributing that to good or bad luck was not relevant. We know today that high temperature can cause an opal to dry out, this could affect the color of the stone. An opal stone that has cracks in it, can crack further or break when exposed to abrupt changes in temperature. One of the prime symptoms of plague was a very high fever and when, death (which was almost inevitable) followed, the lifeless body lost all that temperature and turned fairly cold. The high temperature combined with the sudden drop in temperature, could have caused a visible change in the appearance of the opal. So rest assured that the gemstone in your cladagh opal ring, will not be the cause of any type of bad luck.
Opal has made it to the birthstone charts, and a cladagh opal ring would perfectly serve the requirement of an October birthstone ring. We would suggest that you take a more liberal attitude, and open your mind to all the available opal varieties when choosing the gem. Like always Claddagh365, will stand by you and source the gem of your choice no matter, in which corner of the world it is found. The Greeks believed that opal possessed the powers of prophecy, it has even been called the 'stone of visionaries'. The Romans wore the stone as they believed that it gave a person hope even when, all the odds seemed stacked up. Many of you who believe in the metaphysical properties of gems and crystals, might have heard that opal widens your vision and attracts inspiration.
The above beliefs and folklore related to opals is best treated as historic narration - we do not claim that opals or any other gems for that matter, bring magical benefits to the wearer. Let us now shift our focus on a few opal myths that, are quite active even today. It is our sincere effort to remove any baseless apprehensions or misunderstandings related to the gem. Understanding the features and properties of a gem, will enable you to get maximum satisfaction from your opal gem or jewel.
You might have heard the story that, opals need to be soaked in water occasionally to improve their condition. Our cladagh opal rings with white or black opal gems use opals from Australia and not Ethiopia. Opals from Australia are dense and stable, they are not in any way porous, so they are not capable of absorbing moisture and water. In recent years Ethiopian opals which are basically hydrophane in nature have made a big market presence. Offering a much lower price point as compared to Australian opals, these gems absorb water. The interesting thing is that, the Ethiopian opal would generally, absorb water so well that it would seem be become very transparent and lifeless - the play-of-color effect seems to be lost. Fortunately, this lifeless opal will spring back to life once it is allowed to dry. Keep in mind though that it is best for opals to dry on their own, air blowers and heat sources should not be used to hasten the drying process. Here is one important note related to opals (even Australian) and water. You might have heard of opal doublets and triplets, these are assembled stones where the different parts are stuck together, with a special type of glue. Soaking such assembled opals in water or other liquids, can weaken the glue and cause the gems to lose their beauty.
Many people might tell you that opals are fragile and need to be treated with extreme care and caution. Going by the facts, opals are weaker than some other gems but, really handle well if you know how to treat them. Here is how we strongly advise you too look after your gold or 925 silver opal cladagh ring. Do not wear your opal ring in an environment that, is too hot or exposed to strong detergents and chemicals. The gemstone should not be struck by physical impact, avoid wearing it when doing physical activity that is likely to get it hit. When you store your opal cladagh ring, keep it in a jewel box that has safely padded compartments for each jewel. Bundling any type of gems and jewels together is not a good idea. It might be right to say that, Ethiopian opals need a bit more effort to be taken care of, make sure that your jeweler educates you about them if you happen to buy any.
Another interesting myth related to opals is that, rubbing olive oil or baby oil on an opal gem helps prevents cracking. Opals can develop cracks due to extreme and abrupt fluctuations in temperature. Sharp blows or physical impact can surely crack or even break an opal. As far as opals with cracks at the mining stage are concerned, they would be weeded out of our inventory long before they are even cut or polished. Rubbing some oil or similar liquid on an opal that shows minor cracks can, temporarily soften the visibility of the cracks - but there is no way to permanently heal those cracks. The best way to keep the gem in your opal cladagh ring in good shape, is to take the minor precautions mentioned in the above paragraph.
With a history that extends over thousands of years, you might hear many more ancient stories about opals. Some of these can be verified as being true or otherwise, with the strides made in science and gemology. But if you are ever told that an opal can make you rich overnight or bring nothing but, success and happiness into your life - keep your expectations tied down. A more dangerous thing to do would be to wear an opal cladagh ring and expect, the gem to help cure or control some medical ailment that you have. Your doctor is the only person who should advise and treat you on health related issues.
Claddagh365: One of the leading online custom jewelry providers, we are best known for the finest rendition of the 4 century old cladagh ring. This jewel is widely accepted as being one of the most meaningful jewels ever made. Backed by an intensive research into the history and tradition of the cladagh ring, our rings retain all significance of the first ring made centuries ago. Besides the cladagh ring, we also custom make all types of jewelry in gold or 925 silver. The choice of gemstone and design is yours and you are not limited by what you see on our website. Our experts at sales@claddagh365.com will be glad to assist you, with any information or merchandise related to gems and jewelry that you might need.
We present a few examples of fine opal cladagh rings. Just remember that, you can order any of these in gold or 925 silver. Request for white opal, fire opal, black opal or pink opal. The price for the ring might differ based on the type of opal that you choose, our support experts will send you details based on your specific request. For your gold opal cladagh ring, pick 14k or 18k gold and specify your preference for white, yellow or rose gold. While the Claddagh365 design concept for this jewel has won the hearts of thousands of buyers across the globe, some of you might have your own design idea in mind. Since we custom make every jewel with fine craftsmanship, you are welcome to email us your own design sketches or images.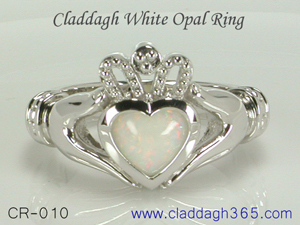 A white opal gemstone cladagh ring, available in all sizes, white, yellow or pink gold and even sterling silver. Nice sharp specks of color flashes, moderately priced despite the Australian opal gem. Check the details for this opal gem stone cladagh ring here.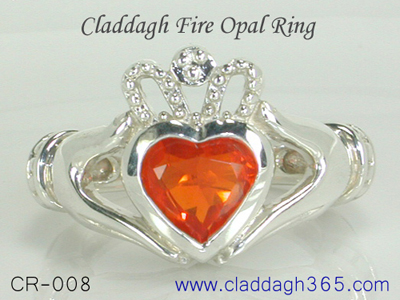 A vivacious fire opal cladagh ring, one of the few fine opal gems that does not come from the Opal Country, Australia. The preferred source for fire opal gems is Mexico and that is why our gem experts head for this flaming beauty. Read all about the ring here.