FINE CUSTOM JEWELRY GOLD OR SILVER WITH YOUR CHOICE OF DESIGN AND GEMS
Blue the color of sky and water is an essential element in our existence, we interact with this color every day. The prominent presence of blue in our daily life ignites interest in all blue creations and this includes, a fascinating range of blue gemstones. Everyone loves a blue gem though each one of us might enjoy a specific hue or shade of blue and fortunately the entire palette of blues is well represented in the world of gemstones. Jewelry designers never stray far away from blue, it is safe color that will always draw admiration. So when we set out to craft our claddagh rings, it is was quite obvious that blue gems would have a healthy presence.
Some fashion gurus claim that, blue gems got a major boost ever since Kate Middleton flashed her blue sapphire and diamond engagement ring, incidentally that was the same gem that adorned the absolutely beautiful (late) Lady Diana's engagement ring too. We would say that the specific sapphire ring worn by Kate did get some high pitched publicity but honestly, as far as the blue gemstone family is concerned, they were always going great and strong. Don't forget that the birthstone charts, have kept December as the reserve of some scintillating blue gems. And things got even better when Tanzanite the violet-blue sensation, was added to the list of December birthstones as recently as 2002. But if you consider the fact that, Tanzanite the gem that is touted as being rarer than a diamond, was first introduced to the dazzling gem markets only in late 1967-68, it's spectacular rise to fame is quite phenomenal. It had two nice things on it's side, big publicity from Tiffany's and it's blue color. By the way the entire blue gang of gems that bring life to December are, blue zircon, blue turquoise and the irresistible tanzanite. While you will find two versions of the Tanzanite claddagh ring in the collection showcased below, we custom make both gold and silver rings with the gem of your choice - so doing a blue zircon, blue turquoise, blue lapis, blue apatite would be no problem. We do have a fine sapphire claddagh ring but, blue sapphire happens to be the birthstone for September and not December.
We offer blue topaz claddagh rings in all three shades of blue, sky blue, swiss blue and the deep london blue. This gemstone is rather interesting in terms of being (or not being) a birthstone. Many jewelers add it on to the existing list of blue gems as a December birthstone. But for the strict follower, you might want to double check this as we have not come across any official publication from any of the big gem and jewelry associations stating that, blue topaz has made an entry into the birthstone charts. On a lighter note, here is an historic fact about gem color and birthstones. When the concept of the 12 birthstones linked to the 12 zodiac signs was first initiated, stone color was the only identity that a gem could have - there was no scientific testing or lab reports to follow. Anything red was thought to be a ruby, and at least half a dozen green gems were confused for emerald. If you have heard about the 7 Chakras in the human body and the gems assigned to each Chakra, you would know that it is color that is primary and gems are then selected to satisfy that color.
Claddagh365: Supported by an intensive research conducted by our team into the significance and tradition of the claddagh ring, we can confidently claim that our rings retain all the features and meaning of the first ring made 4 centuries ago by an Irish slave named Robert Joyce. We provide the same care and attention for crafting the gold or silver ring and can provide just about any gemstone that you require. We also craft all types of jewelry in gold or silver with your designs or ours and once again, put no limit on your choice of gemstones. Our support experts at sales@claddagh365.com would love to hear from you, please send us your questions or requirements and we will get back to you with honest and useful advice and suggestions.
We present a few blue gemstone claddagh rings below, do have a look and let us know if you need you ring to have a gemstone not mentioned here. All rings can be ordered in gold or sterling silver, the gold ring is offered in 14k or 18k gold and you can select white, yellow or pink gold. For the silver ring, we would suggest no plating as any type of plating done on silver will wear off after some time. It will be much easier and convenient to clean an un-plated silver ring that tarnishes. However if you still prefer to have a plating done on your silver blue stone cladagh ring, you can choose from white rhodium, yellow gold or pink gold. The options for diamonds in the crown is available with all gem options and in gold or 925 silver rings.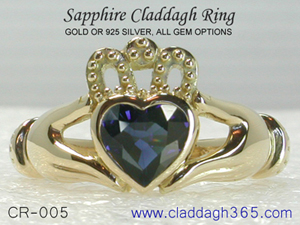 We begin with the always popular blue sapphire claddagh ring, a gemstone that was once the privilege of only the royals and powerful. With the price of blue sapphire gems confidently moving up, this is one gem that will always have an exclusive place in the world of style and fashion. You can choose a gold or 925 silver sapphire claddagh ring, all ring size requirements can be accommodated. Available in two gem grades, the ring is shown here with a good grade blue sapphire. We would suggest that you make your selection based on you preference and planned budget. If you are a loyal follower of sapphires and already have a good many blue sapphire rings you will be glad to know that, our sapphire claddagh ring is available with sapphires in other colors too - pink, green, orange and yellow are some of these awesome colors. Sapphire also happens to be the birthstone for the month of September and the 45th anniversary gemstone, but to enjoy the excitement of owning this classic blue sapphire claddagh ring you neither have to be born in September nor reach the 45th anniversary, get more details here.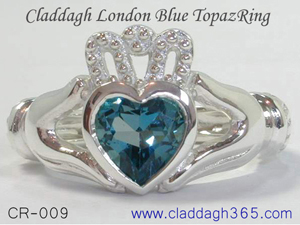 The majestic blue of london blue topaz in this claddagh ring, sets this ring apart. Most jewelry lovers are impressed by the features and beauty delivered by this blue gem at a very modest price. If you are looking for a blue gemstone claddagh ring that has a nice saturated blue gem, is eye clean and moderately priced, blue topaz is the gem too look at. And since you want that darker shade of blue pick the claddagh ring with london blue topaz. You could choose the blue topaz claddagh ring in silver or gold and rest assured that, all three blue shades of this stone get along perfectly with all metal colors. And if you feel that this blue gem is not extravagant enough for an engagement ring, you will be pleased to know that it lacks nothing in terms of durability and appearance and price, need really not be a criteria for choosing that special jewel. You will be glad to know that there are two other blue shades within topaz, if you wish to get a claddagh ring with a lighter blue gem request for the sky blue topaz gem. And for those of you who wish to a see a little more brightness in the blue, go for the swiss blue topaz gemstone. See more details for this ring here.
The amazing violet-blue tanzanite claddagh ring, adorned with diamonds in the crown. We would refer to the tanzanite as a blue gem because the violet tone that is present in the gem, is invariably quieter than the blue. Tanzanite a fairly new entry to world of gems (around 1967) has won the hearts of millions of jewelry enthusiasts. When it comes to formal jewels like engagement rings, tanzanite rubs shoulders with stalwarts like ruby, sapphire and emerald - these gems have a history that dates back to thousands of years. The CR-012 blue gemstone and diamond ring shown here boasts of a good grade tanzanite gem. The fine craftsmanship, perfectly cut gem and the glittering diamonds in the crown suggest that this jewel is to be reserved for special occasions but, that is not really true. Custom made in gold or silver and offered with all three gold color options, this tanzanite diamond claddagh ring will make you feel good and look gorgeous no matter where you take it along. Until recently we have received most tanzanite gold ring orders in yellow or white gold, we are now seeing young buyers picking pink gold to set this gorgeous gem. So if you feel that you can carry the attention grabbing color combination of blue stone and pink metal go ahead. Details are right here.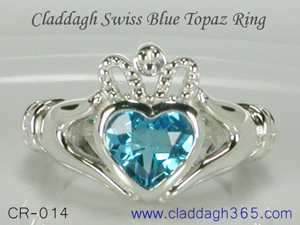 Another blue topaz gemstone claddagh ring, this is the bright swiss blue topaz. An eye clean gem carefully selected and expertly cut to fit the finely crafted gold or 925 silver or gold claddagh ring. If you thought that this vibrant blue gem was suited only to the younger hearts we can tell you that, we have seen this blue topaz gemstone ring on some mature fingers and the appearance was truly magnetic. For a moderately priced blue gemstone claddagh ring, the blue topaz family with it's 3 shades of blue offers an amazing option. Like the other two shades of blue topaz, the swiss blue topaz claddagh would look awesome in just about any metal color that you choose. With a perfect cut, eye clean clarity and a lively color, swiss blue topaz packs everything in and still manages to bring a smile with it's moderate price. Regarding blue topaz being an option for a December birthstone we did mention above that, we would prefer not to comment on the topic. Most birthstone charts list blue zircon, tanzanite and blue turquoise as the birthstones for the month of December. Every claddagh ring that we craft receives the undivided attention of the finest craftsmen and artisans. Learn all about this bright blue gemstone claddagh ring here.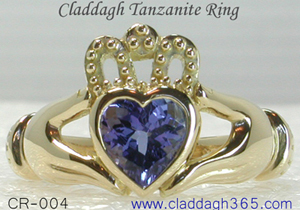 Another version of the tanzanite claddagh ring this time with no diamonds in the crown. With varying degrees of violet shading the blue in tanzanite, the gem can sometimes appear much like a blue sapphire. The gemstone that is found in just one stretch of land in Tanzania also happens to be very much rarer than a diamond. In your search for a blue stone claddagh ring, this is one gem that will really impress you. With a color that is absolutely mesmerizing, Tanzanite has quickly entered the exclusive club along with ruby, sapphire and emerald on the engagement ring scene. Available in white, yellow and rose gold with options for 14k or 18k gold, this ring is also finely crafted in sterling silver. Since each ring is fully custom made, all ring sizes can be accommodated. You can also request for an etching to be done inside the band of the ring, this is a perfect way to give an identity to a jewel. We always recommend that silver rings be left un-plated as plating done on a silver ring will wear off with time. Having said that, we can provide white rhodium, yellow gold or pink gold plating for your sterling silver tanzanite ring but, that plating would not be permanent too. More on this gorgeous ring right here.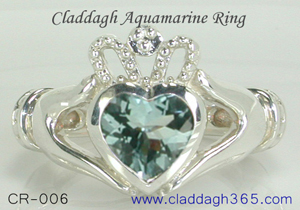 As the name of the gem suggests, aquamarine has a calm and peaceful shade of blue. This gemstone happens to be a close cousin of the emerald and morganite, the three gems come from the same mineral, beryl. A blue gemstone claddagh ring with an aquamarine gem would look stunning in white metal, silver and white gold are therefore good options for this stone. If you need a more pronounced blue for the gem, discuss your requirement with our support team - a shade of blue topaz might be a better choice in that case. The choice of metal will be you decision as we offer silver and 14k or 18k gold in all three gold colors, white, yellow and pink. And if you prefer to see diamonds in the crown of your blue aquamarine gem stone ring, request for the CR-012 design shown on this page. With colored gems being increasingly seen in engagement rings, the diamonds in the crown option would add some bright glitter to the ring. Many buyers make specific requests for the darker blue shade of aquamarine, while we can procure such a gem for your ring please note that, it would involve an increase in the price of the ring. We have compiled a full report on the aquamarine claddagh ring here.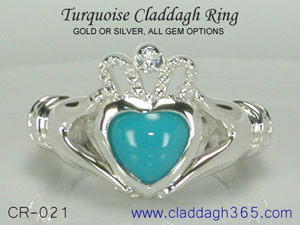 Turquoise one of the gorgeous blue gems in the collection of birthstones for the month of December. The color of turquoise is always in a shade of blue though, you might find a green tint at times. Color is the most important feature of this blue gem and interestingly, the term 'turquoise blue' is used also to describe the color of objects that are in no way related to the gemstone. You can rest assured that a gold or silver claddagh turquoise ring in just about any metal color, will look tremendous. The iconic color of this blue gem, commands respect from all metals irrespective of their color, composition or price point. It is important to understand the stabilization that most turquoise is put through. While Claddagh365 can set an untreated gem in your gold or 925 silver turquoise cladagh ring, there are some benefits of choosing a stabilized turquoise gemstone. Our report gives you a thorough insight into the meaning and options for this blue gemstone cladagh ring. You will not only get acquainted with the claddagh ring but also,gain a lot of valuable knowledge related to the blue turquoise gemstone. Our support experts will be glad to answer any questions that you might have but, we would suggest that you spend some time reviewing the report here.
Other Blue Gems: Here are some other options for your blue gem claddagh ring, we can procure just about any gem that you need so please do not restrict your selection to what you see on our website. Blue Lapis, Stabilized Blue Turquoise, Greenish-Blue Apatite, Deep Purplish-Blue Iolite,Blue Kyanite (not recommended as not durable).